Alaska Almanac. Alaska Northwest Books. annual. $9.95. Grades 4-12.
Miscellaneous information on Alaska arranged in dictionary format with brief entries. (Sometimes called Facts about Alaska: The Alaska Almanac.)
Alaska in Maps. Majorie Hermans. Alaska Geographic, 2003 (spiral bound) $35.00 Grades 4-12.
Alaska Native Ways: What the Elders Have Taught Us
Alaska Native Ways: What the Elders Have Taught Us. Will Mayo and others. Photographs by Roy Corral. Graphic Arts Publishing, 2002. A valuable resource for both reference and checking out to students and teachers.
Diana Campbell (Athabascan), Walkie Charles (Yup'ik), Ruthie Lee Tatqavin Ramoth-Sampson (Inupiat), Philip Kelly (Aleut), Nora Marks Dauenhauer (Tlingit), Sven Haakanson, Jr. (Alutiiq), David Boxley (Tsimishian), George Noongwook (Siberian Yupik), Jeane Breinig (Haida), and Dune Lankard (Eyak) write about Alaska's major cultures from the inside while photographer Corral presents lavish photographs that give witness to Alaska's human and geographic diversity.
Alaska Wilderness Guide. 8th ed. Morris Communications, 2001 $19.95 Grades 7-12.
A complete guide to 250 remote towns and villages as well as 45 state and national parks and refuges in Alaska. "How to get there-where to stay-what to do." Arranged by region. Formerly called the "Wilderness Milepost"
Alaska, An American Colony. Stephen Haycox. University of Washington Press, 2002. Grades 9-12. $35.00
This is the most recent history of Alaska and is strong in its overview of recent history and politics in Alaska. Written as a college text, it will be a good resource for high school collections as well.
Eskimo Architecture : Dwelling and Structure in the Early Historic Period. Molly Lee and Gergory A. Reinhardt. University of Alaska Press. $45.00 Grades 7-12
This attractively designed comprehensive work, although scholarly, is accessible to middle and high school students who are researching Alaskan cultures. The historical photographs and diagrams that appear on almost every page will capture the interest of anyone curious about survival skills of Alaskan cultures.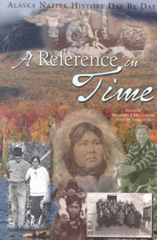 A Reference in Time: Alaska Native History Day by Day
Na'Eda (Our Friends): A Guide to Alaska Native Corporations, Tribes, Cultures, ANCSA and More. Alexandra J. McClanahan and Hallie L. Bissett. CIRI Foundation 2002. $9.95 Grades 4-12.
Included in this small book are an overview of the Alaska Native Claims Settlement Act, listings of Native corporations, village corporations, traditional councils/IRAs as well as cultural centers and museums.
A Reference in Time: Alaska Native History Day by Day, edited by Alexandra J. McClanahan. CIRI Foundation, 2001 $19.95 Grades 4-12.
A valuable tool for remembering and learning about the history of Alaska Native peoples.
Whelks to Whales: Coastal Marine Life of the Pacific Northwest: A Field Guide. Harbo, Rick. Harbor, 1999.
Released since 2000 in the United States by Alaska Northwest, this Canadian title covers much of the marine life of Alaska's southeastern and, in some cases, southern coast.