If you listen to KCAW, Sitka, on Sunday nights at 6 you'll be treated to a half hour of surprising "rodent radio." Genuine Mouse Radio is written and hosted by two mice named Eeek and Squeak. Each week they commandeer the station from the human DJ's and clear the airwaves to play games and put on skits for the children and other small animals of Sitka and the outer coast.

Eeek and Squeak are substantially aided by mystery writer John Straley and his 11-year-old son, Finn. John and Finn enjoy writing scripts together and thinking up unusual games that mice can play on the radio. Eeek and Squeak have hosted a call-in talent show where participants do everything from singing to sleight of hand over the phone. The rodents also act as hosts and referees for games in which the cats in the listening audience pit their wits and knowledge of trivia against the mice.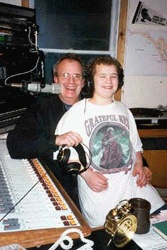 John and Finn Straley
John and Finn work together on ideas as they drive back and forth to school. Sometimes they work on script ideas at night when they are goofing off and should be working on book deadlines or homework.
Both John and Finn are wiseguys and they love working on comedy, but they also each like to write poetry. Finn is an avid reader who likes the Trilogy of the Rings as well as Simpsons comic books and Shakespeare. John loves to read the books he faked his way through school not reading. "I didn't know what I was missing!" says John after finishing Beowulf for the first time. "Like, duh, Dad!" Finn observes.