I began producing poetry slams at the Fly By Night club in Anchorage in May 1993 to put more poetry into my life.

As an ex-rock and roll guitarist, my secret life continues to unfold in nightclubs. I once got invited to compete in a slam as a dead poet and failed, but loved the adventure of it.

I wanted to hear more of that mix of words that need no apology and a boozy, maybe rowdy crowd that asks for the same thing. I wanted to mingle more with local poets and find a personal antidote to the routines of academia and journalism.

Live poetry, treated as entertainment that either succeeds or doesn't, may be closer to the cultural edge. Or maybe not. But either way, the Slam seems to be fresh and a little reckless, dreamy or tossed off. Because I seem to be boringly responsible in my personal life, I invite poets and actors to step before a crowd and try to win it over with wit and guts.

History of the Anchorage Poetry Slam and the Alaska Poetry League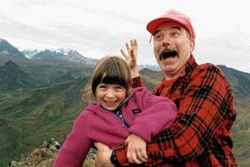 Peter Porco with his daughter, Maeve.
In 1990, poet Deborah Tobola started the Anchorage Poetry Slam at the Fly By Night Club in Anchorage. She initiated the tradition of having two categories: Live Poets and Dead Poets.
After Tobola left the state and the slam lay dormant, Anchorage writer Peter Porco restarted it in 1993. The Anchorage slam is now produced twice,sometimes three times, each year.
In September 1998, Porco formed the Alaska Poetry League, to produce more poetry events and to encourage new writing. Tobola, now back in Alaska, is vice-president of the league. Together with the other officers -- Wendy Withrow, Camille "CC" Conte, Donna Kleppin and Lila Vogt -- the nonprofit poetry league also produces poetry slams in Homer and, for poets age 20 and younger, the Under 21 Slam on the University of Alaska Anchorage campus.
The league intends to bring the Slam to Seward and Palmer, to send a team of Alaska poets to the National Poetry Slam Championships, and eventually to hold the national event in Anchorage, bringing the best poets in the country to read in competition at the Sullivan Arena. The APL also sponsors other readings and spoken-word events. It may even bring the Slam to Barrow, North America's northernmost settlement.