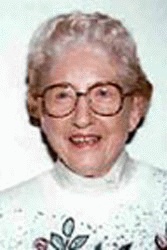 June Bender
June Bender
"Don't get me wrong, I like to sit around and watch TV too," says June Bender, a volunteer for the Anchorage School District Library Resources Center. "It's just that these folks have their hands full, and I admire what they're doing. It's fun to be a part of it." Like many senior volunteers, June enjoys her volunteer position because it allows her to keep busy, get out, and meet people. At the Center, she is part of a committed team whose work she respects.
For more than four years now, June Bender has been serving as a full-time volunteer for the Resources Center. June, who came to Anchorage from Seattle in 1976, provides fuel for an engine that manages an inventory of more than 1.3 million books in 100 library centers throughout Anchorage.
In an average year, the center facilitates more than 100,000 inter-library transactions. In other words, when a student wants a copy of Ho-limlim rabbit tales from Japan, but his school library doesn't have the book on its shelves, they work through the Center to borrow the book from a different school library.
Lately, June has kept busy contributing to the Center's new computer system's accuracy. Book by book, June and her colleagues meticulously check and doublecheck details like ISBN numbers, titles, and author names. From Harry Potter to Ho-limlim, the Center expects to have a new Web-accessible index of all 1.3 million books available to the entire community within the next six months.
Betty Volkenand
"Some of the kids even come up to me in the grocery store and say, 'Hi Grandma Betty!' I just love it," says Betty Volkenand, summing up why her volunteer time at Wasilla's Tanana and Iditarod Elementary Schools has become such a special and important part of her life. "I really feel like I'm part of the family. Even some of the teachers call me Grandma."
Betty came to Alaska from Seattle 20 years ago, and for the last three years, she has spent two days each week during the school year helping out in Wasilla classrooms. She often comes armed with her own little library of story books and her dinosaur mascot. Sometimes she reads to the entire class, and other times she works one-on-one with children who need a little special attention. "Sometimes I read to them. Sometimes they read to me, and sometimes we do flash cards," she says. "Whatever the teacher wants me to do, I do. That's what I'm there for. They need help."
"The little ones really want to learn, and they appreciate it so much," says Betty. "They're attentive, and they listen to me. I figure if I can help a child learn to read, then I'm giving them a little more enthusiasm to stay in school, and that matters."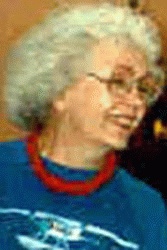 Isabelle Rogan
Isabelle Rogan
"Start them out early," says retired teacher Isabelle Rogan. "Set a certain time aside every day to read out loud to the little ones. Make it a habit. Get them interested when they're young, before they get hooked on TV."
Isabelle believes that children who don't learn to read well when they're young are put at a disadvantage for the rest of their lives. "It's what counts the most. You need to be able to read to be successful in life," she says, and she should know. She came to Kodiak in 1949 to teach school and look for a husband. She "found a good one immediately," another teacher, and they spent their life together moving across Alaska teaching in native villages for the Bureau of Indian Affairs.
"It was a great life," says Isabelle. "And a wonderful way to raise our eight children – all of whom are avid readers, and one even writes science fiction books."
Today she shares her love and respect for reading with the children of the Sherrod Elementary School in Palmer. For nearly five years, Isabelle has been a volunteer reader, reading stories out loud to classrooms filled with kids who she says sit quietly and listen with rapt attention. "They're so darling, and they get so involved in the stories. They really love it, and that makes it fun for me."
Isabelle says the teachers she's worked with "have been excellent in encouraging the kids in every possible way," and says she likes being a part of that.
"They always send me thank you notes and Christmas cards. Last year, they had an ice cream social and presented me with a bouquet of paper flowers they made. It's so nice. I just love it."