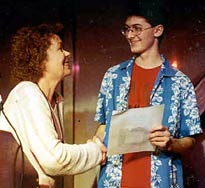 Wendy Withrow congratulates Matt Iverson
Matt Iverson is a senior in the School Within a School at East High School. His hobbies include playing trumpet, piano, and drum set, riding his bike and, believe it or not, writing poetry.
Some of his poet-heroes include Walt Whitman, Olena K. Davis, Anthony Walton, George Herriman, and Walt Kelly.
In the future, he plans to play jazz in shadowed clubs, visit Ireland for some time, bike down the Atlantic coast, and live in Yakutat with another 'poet-type' known as "Hansie."