Department of Creative Writing and Literary Arts University of Alaska Anchorage
Poetry Out Loud is the annual high school performance poetry challenge for young poets in Anchorage and the Mat-Su Valley.
Sponsored by the University of Alaska Anchorage's Department of Creative Writing and Literary Arts, in conjunction with its annual undergraduate literary magazine, Understory (formerly called Inklings), Poetry Out Loud is a community outreach program designed to encourage high school students to write and perform original poetry, to inspire learning and develop performance skills in its participants.
High schools sponsor teams composed of a faculty advisor and three students (some schools send more than one team). Each student reads his or her poetry, which is scored in two ways: the content and quality of the poem and the performance of the poem. The three teammates' individual scores are then combined to create the score for the team.
Poetry Out Loud offers two major awards: The Jessie Withrow Award for Individual Excellence, was first awarded in 2001 in memory of Jessie Withrow. The winning high school team receives the honor of having its school and team name engraved on the traveling Poetry Out Loud trophy (shown at right). In past years Poetry Out Loud has also benefited from additional prizes donated by local businesses, including the UAA Bookstore, Borders, Barnes and Noble, and the Great Alaska Bread Company.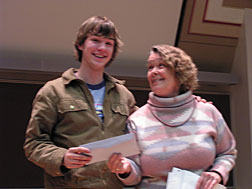 Sam Gugel, winner of the Jessie Withrow Award, receives the award from Wendy Withrow.
2005 Results
1st Place (winner of Jessie Withrow Award and acceptance into Understory 2006): Sam Gugel
2nd Place: Tie between Ariel Burr and Rebecca Barker
3rd Place: Eugene Ward
4th Place: Max Musial
5th Place: Tara Devlin
Recent Winning Teams
2003 Steller Secondary School
2002 Steller Secondary School
2001 East High School
2000 Steller Secondary School
1999 Service High School
1998 Steller Secondary School
1997 Steller Secondary School