It all began with the children's book Flat Stanley, by James Brown. In the story, a bulletin board falls on Stanley Lambchop, flattening him. When Stanley wants to visit a friend in California, but can't afford airfare, he simply mails himself for a visit.

In 1995, Dale Hubert, a third grade teacher in Ontario, Canada, developed the Flat Stanley project, which is currently in use in schools across the world. It works like this: students make flat versions of themselves (or of Stanley himself) to mail to a participating school or person, who can be as far away as on the other side of the globe. People on the receiving end take their new flat friend around for a week, writing about their activities and taking photographs. They then mail the flat person back to his or her original owner, along with a journal of the week's adventures. Back in the classroom, students are able to chart Stanley's travels on a map while learning about other communities and cultures.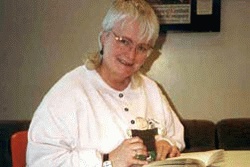 Georgine Olson reading with Flat Stanley.
Stanley Visits Alaska
As part of a class project at school, Kendall from Cherry Valley, Illinois, mailed Flat Stanley to Georgine Olson, a librarian living in Fairbanks, Alaska. What emerged through Georgine's daily letters to Kendall is the story of a week in the life of one Alaskan librarian. Here's the letter that began Stanley's trip to Fairbanks.
Dear Mrs. Olson,

I am sending you my little friend named Flat Stanley. He would like to visit with you for one week. During his visit, you can take him anywhere you go. Please write me back telling me what you and Stanley did together. My class is doing this as a project, and I will share your letter with them. Don't forget to send Flat Stanley back too! Thanks for helping me out!

Love, Kendall

P.S. Please send a few pictures, too!