Sadie doesn't get bored. How could she, when her days are filled with swimming lessons, Lapsit at the library, kid's gym, and dinner with her parents' friends? Peter and Lisa don't leave Sadie behind when they go out in the world -- they never have, they just take her along. Her first summer they took her kayaking and backpacking; the next winter she went along on ski trips. Being outdoors is completely natural for her -- she's never known anything different. She rolls around in the snow in fleece pants and coat; she runs on the beach and wades in tidepools; she sits in the kayak and rides in a sled behind skis; she picks berries.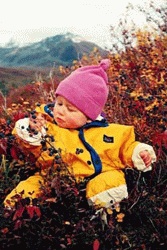 Sadie picks blueberries

Sadie learns a lot from her parents. For them, life doesn't stop. They didn't stop doing the things they loved when Sadie was born -- instead, they share them with their daughter. The same is true for her: when Sadie falls down she gets up. It doesn't occur to her that she should cry. Her parents go right on about life and so does she. For her, the most natural thing in the world is rolling from the top of a beach to the bottom and then getting up and doing it again.
Sadie's made some of her own discoveries, too. She loves to dance. Lisa recently found a pair of white dancing shoes for her -- they're too big, but they're the closest fit she could find. "And," says Peter, "that way she can put them on herself!" Sadie's favorite album is Irish Heartbeat by Van Morrison and the Chieftains.
Sadie's got to be one of the youngest naturalists out there. She soaks up information like a sponge. She points out birds and flowers; she knows the difference between bearberries ("yuck!") and blueberries ("yam!"). She's waded in tidepools, pointing out snails and crabs (at seventeen months, barnacles were "mapoohs").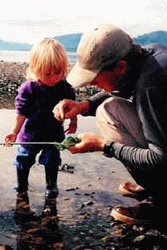 Sadie at Glacier Bay

She's the same way with books -- she soaks them right up.
"I don't know what Sadie would do without so many books in her life," says Lisa. "She's had them since she was born -- it's just been a natural thing for her."
She always has a favorite book -- she'll get stuck on it for a while and then move on. For a long time she was hooked on Animals Should Definitely Not Wear Clothing by Judi Barrett. She took it with her everywhere, including a four-day ski trip in which Peter pulled her in a sled while she held her beloved book. She was just over a year old. At the cabins everyone on the trip took turns reading about all the animals that looked so funny in clothes.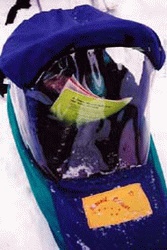 Sadie in her sled

"We always have a bag of books with us when we go anywhere," says Lisa. "They're like her toys -- they are her toys. It's really all she needs to be entertained."
"I guess it helped that Peter and I were in school and we cared about books. They are in our lives and so they are in Sadie's life. I guess it has to do with the parents' interests and priorities. If you make reading a priority in your life, it happens naturally for your kids too."
"I think books have helped develop Sadie's character … and her thinking skills. I wouldn't ever do it any other way," she says.