Here are some of Heidi's favorite authors and books. Don't forget your local library -- ours has almost everything mentioned before and below.
Anything by Eric Carle: Brown Bear, Brown Bear What Do You See?, The Very Hungry Caterpillar, etc.
Anything by Shirley Hughes: her Alfie books, and Dogger
Where the Wild Things Are, by Maurice Sendak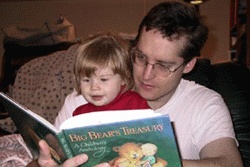 Terry and Heidi, at age 2.

Blueberries for Sal, by Robert McCloskey
Caps for Sale, by Esphyr Slobodkina
Corduroy, by Don Freeman
The Story of Ferdinand, by Munro Leaf, illustrated by Robert Lawson
Big Bear's Treasury; A Children's Anthology, Volumes 1 and 2, published by Candlewick Press
Joseph Had a Little Overcoat, by Simms Taback