Heidi just turned two years old and looking at books and being read to are her favorite in-house activities. Since my second daughter, Julie, was born four months ago, I am reading more than ever to Heidi. Since I am a stay-at-home mom and breast-feeding right now, there are many hours where I am camped out nursing Julie in a sofa chair and reading to Heidi. I think this has helped Heidi not to be jealous of the baby -- she looks forward to this since it's quadrupled our reading time together each day.
Recently, it seems that Heidi's attention span has gotten much longer -- she still likes most of her toddler books, but is also interested in books that have more text than pictures, new vocabulary, poetry and advanced plots (recommended for ages four through eight). This has made me eager for new material. Friends and relatives have been very helpful in recommending some wonderful books and authors. Some of Heidi's favorite books last year were ones that I would have never picked but luckily received as gifts (e.g. Pat the Cat, by Edith Kunhardt, Goodnight Moon, by Margaret Wise Brown, and Who's Under Grandma's Quilt, by Rachel Waterstone).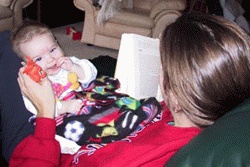 Robin and Julie, at age 4 months.

It's always fun to see connections that Heidi makes between a vocabulary word learned from a book and the everyday use of that word. For example, she loves a Keith Haring book titled
Big
and has learned words like
enormous, huge, tremendous, gigantic
and
jumbo
from this book. A few months ago, as I was folding a king size quilt, I called it "enormous." She responded, "like the enormous blue suede shoes," which is a direct quote from the book.
Heidi loves poetry -- as much, it seems, for the sing-song intonations and rhymes as for the whimsical content. Her favorites so far are Out and About, the Nursery Collection, by Shirley Hughes and The Real Mother Goose, illustrated by Blanche Fisher Wright. She loves anything that we can read and sing to her, and is able to sing quite a bit on her own now, verbatim.
Terry reads to her quite a bit as well. He and I look forward to when we can read novels to her -- like a chapter at each bedtime -- because we both have such fond memories of being read to when we were young. One of my friends regularly reads what would be considered junior high and high school level material to her five-year-old. She seems to be very particular about picking what is appropriate content for his age, while seeing that it is interesting and challenging as well. I admire the time and dedication she puts into reading with him.
Terry and I don't watch television -- we own one, but it's not hooked up for any sort of reception. It will probably be quite a few years before Heidi's exposed to much TV, and that will most likely be at someone else's house. If she ends up begging for cable, we might have to reconsider however since I would hate to have the television turn into some sort of forbidden fruit. Maybe by then she'll be too busy with books and outdoor activities to bother with television anyway. That's what we hope, anyway, for both of our children.