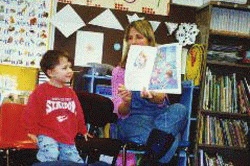 Heather Durtschi reads to Max's kindergarten class on Max's Family Day -- a day for him to bring all his favorite things to share with his class, including his mom and brother, Reiker.

When Max expressed an interested in any subject, I would go and find books about it for him. Construction, trains, and airplanes have always been favorites and still are with both boys. We could easily read for 45 minutes every afternoon and evening on a variety of topics.

Max has always soaked up technical jargon. When he was four, he was given an encyclopedia of trains. It reads like a textbook! Yet I would have to read every word of every description.

I have subscribed to two or three different magazines for Max since he was three: Lady Bug and The Big Backyard and now Kids Discover, Ranger Rick, and Highlights. He loves them and does most of the puzzles, mazes, questions, and experiments.

Max started kindergarten last fall and loves it. It is not very challenging for him academically, but he is reading and still loves books; he is very into chapter books and series like "The Box Car Children," and "Swallows Amazons," but he still enjoys picture books too.

Reiker is three and has benefited from Max's library. He too loves books, especially about construction, airplanes, animals, and silly stories. He won't sit through the technical jargon, much less demand it like Max did. He loves story time; the library is a favorite place.

At the moment, I can read the same books to Max and Reiker, but until Reiker was three (in January), Max wasn't interested in Reiker's books, and vice-versa. So reading time was doubled!