The caribou meat hangs in the Sharp family shed, waiting to be cut up and either eaten now or stored in the freezer for later. Though they live in Anchorage, the Sharps harvest at least some of their food in western Alaska, not so far from Kotzebue, where Suzanne was born and raised.
Suzanne moved to Fairbanks to earn a college degree. In 1986, she graduated with a BA in Alaska Native Studies. In Fairbanks, she learned to readjust her sense of scale. "Small things seemed big at first," she said, as they would have in the village. "It was a larger scale." But she acclimatized, first to Fairbanks, then to Anchorage, where she has lived for over ten years. In 1998, she earned her master's degree in public administration at UAA; she now works at the Institute for Social and Economic Research (ISER) where she is involved in a course of work designed to incorporate Native curriculum into Alaska's schools.
| | |
| --- | --- |
| The Sharp family. From left to right, Janelle, Rachel, Suzanne, and Tim. | Suzanne Sharp poses outside ISER, wearing a parky trimmed with silver fox fur. |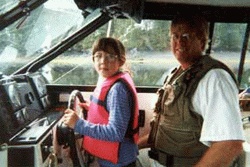 Tim and Rachel on their boat.

Suzanne lives with her Missouri-born husband, Tim Sharp, and their two girls, Janelle, 11, and Rachel, 7. Her brothers, sister, and parents live in close proximity; she says it's nice to have her family near her. The cost of living is better in Anchorage, and the weather is milder, but Suzanne still tries to maintain strong ties to her Inupiaq heritage.