I have now been the Storytime Lady for seven years. Every Wednesday evening during the summer, at 6:30 p.m., I take my place on a certain bench in the Alaska Botanical Garden, and I tell stories to little kids. We call it Storytime in the Garden.
I'd dreamed up the idea on a whim, a spontaneous burst of "I can do this." I thought it would be a great boon for the Garden, the library, and little kids. I wanted to bring books outside; combine the love of books with my love of Nature. Choose a theme for each week, find stories that go with it, find matching songs, outdoor activities, and crafts, too. We read about dandelions and making wishes. We went out into the parking lot and blew a whole box of dandelions. At least they were supposed to be blowing; an awful lot of fluff was hanging out on their lips. We "planted a rainbow," and did a treasure hunt for colors in the garden.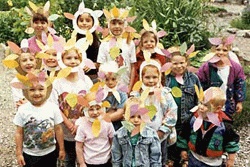 Photo by Barbara Brown
I'd find other books, ones just right for my daughter Sophie. When she learned how to crack her egg for breakfast, Johnny's Egg showed up. When the potty loomed large in her life, so did Annie's Potty. The books became a way to understand what was happening with her. One night, after dinner, I came upon Sophie in the sandbox. She was sitting on her bucket, her hands folded out in front of her, and she told me she was the Storytime Lady, she was doing a storytime for the sand. "And the sand is listening," she said delighted.
Over the course of the summer, regulars started returning, bringing friends. Kids started remembering things they'd seen, flowers they'd learned. They started feeling like the Garden was theirs because they knew where the broken tree was or the "tree bridge" or the blue flower. On the last Wednesday, two mothers brought flower-shaped cookies.
When I read, I play. Each page becomes a cliffhanger, each character a new voice. I watch the children's eyes; are they getting rounder? Are they holding their breath? Or are they fidgeting and looking for the great escape? Will this book flick the switch that makes her a lifelong reader? Will he discover something that makes him want to check out another book?
After I'm all done reading, after I've collected the thank yous and the hugs, the rewards don't end. If I'm out shopping and a child pulls on her mother's shirt, hides behind her mother's back, and whispers, pointing at me; I can guess what it's all about. "Yes," I say, "I'm the Storytime Lady. I remember you from storytime." And we both walk away happy, pleased to be recognized and remembered.