Introduction
In this exercise, students are introduced to the grading rubric used by the Anchorage School District's standardized tests to judge writing samples. By teaching students to use the grading rubric in their own revision process, students are better able to see what makes a great essay and where their own essay-writing strengths and weaknesses lie.
Writing with Traits focuses on writing as an ongoing process, as it leads students to revise their essays at least twice. Because the writing is done over a period of time, students can reflect and mull over ideas and have the opportunity to incorporate improvements into their future drafts. Students have the satisfaction of knowing they can produce a work of high quality, so they feel successful.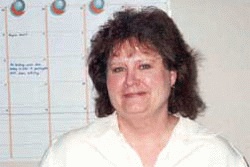 Toni Bassett
After a first revision, students exchange essays for peer review. In this process, students learn to give and receive feedback, sharpening their evaluation skills -- both in critiquing the work of others and in discerning whether or not the feedback they receive is valid. Ultimately, students score themselves, and if they apply the criteria fairly, they know where their deficits lie and what they need to work on.
I'm amazed at the results -- the quality of writing -- that seventh graders produce when we do this exercise. It's quite sophisticated. They love stories, and they all have a story to tell. This gives them an opportunity to have a voice and an audience and, sometimes, that's all they need.

Preparation
The writing with traits grading rubric emphasizes six categories of skill level: Ideas and Content, Organization, Voice, Sentence Fluency, Word Choice, and Conventions. Each "trait" is evaluated with respect to a six-point scale, with a six given to student work considered to be "exemplary" and one denoting work that is in a "beginning" stage.
Before we begin, we look at many examples so students have a good idea of what it takes to earn a "six" in any given trait; it's difficult to strive for something unless you know what it looks like. Furthermore, it's important that students understand how they are currently evaluated and how they will be evaluated in the future. Using the Student-Friendly Guide to Writing Traits, students are able to go through a checklist for each category and score their own writing, as well as the writing of their peers, using the same scale I will use to grade their essays.
This six-point scale is also used to assess students' writing skills on the Anchorage School District's Writing Assessment Benchmark Exams, given to students in their fifth, seventh, and ninth grade years, and in the High School Qualifying Exam (HSQE). The Benchmark Exam assesses progress or lack thereof for students, parents, and schools with results indicative of whether or not students are in-step to pass the High School Qualifying Exam (HSQE), which is required for high school graduation.
Exercise
Students are asked to write about a memorable experience or an important event that occurred in their lives. After producing a rough draft, each student will revise his or her essay at least twice. Students first critique their own essay using the Six-Trait Scoring Guideline and the Student Friendly Guide to Writing With Traits. After revising their first draft, students exchange essays with a partner for a peer-editing session. Again, using the Six-Trait Scoring Guide and the Student-Friendly Guide to Writing Traits , each student reviews his or her peer's essay, scoring it and adding helpful comments on the Peer Edit Response Form . Students then revise their essays a second time, based on comments given by their peers. The result is a higher quality of writing from each student than a teacher would see without assigning revisions.