In my kindergarten class we read the book The Mixed-Up Chameleon by Eric Carle. Then we talk about what animal we would want to be if we could change and why. I write some of their examples on the board.

Previously, I had taken pictures of each student and blew them up. The students then glue their picture to their paper and draw what animal they would want to be as their body. On the bottom of the paper is the statement, "I would change into a _________ because ______________." They need to sound out the words as best they can, and then I go over and help, if needed.

Once everyone is done I put the pages into a book and we all read it together. They can then read it by themselves or with a friend at book center. Because of the repetition it is easy for them to read it. They love it because they are reading by themselves.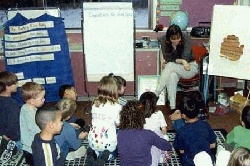 Kim Martin's Class
Student Examples