"To tell our stories, we make masks!" These inspiring words from the excellent instructional video, "Agayuliyararput: The Living Tradition of Yup'ik Masks"1, motivated an integrated studies project by the Third and Fourth grade Open Optional students at Willard Bowman Elementary in Anchorage, Alaska.
In collaboration with Donna Ellis, the school's art teacher, classroom teachers Ann McKay Bryson and Cindy McFarlin guided their young learners through lessons incorporating the research and literature they had been reading during their Alaska Studies unit into an art and writing project.
The students used the mask posters and information guides that accompanied the Yup'ik mask video to learn what various elements stood for in Native Alaskan masks. (For example, holes may signify passageways for the spirits to travel between the heavens and the earth and/or be "looking holes" for the gods to use when determining whether the people are living respectful lives, deserving of receiving animals for their food.)
Brainstorming story ideas led to mask designs that traveled with the children to Bowman's art room. There the ideas came to life in clay, which was fired, painted and trimmed with feathers, beads, reed and raffia. With their masks before them, these young authors released the stories within them. We pass these stories on to you, in the hopes that your stories will come our way. To tell our stories, WE MADE MASKS!
1produced and distributed by: Anchorage Museum of History and Art, Ann Fienup-Riordan, Exhibition Curator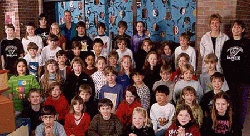 Ann Bryson's Class