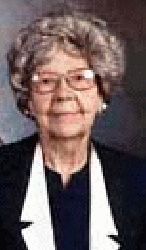 Bell Benton
"One day I said to my first graders: 'You write such beautiful thoughts, your pencils must have stars in them!' They laughed with delight, and one little boy held up his pencil and said, 'Look! My pencil's full of stars!' I hugged him and said, 'You've just named our poetry book!' And Pencils Full of Stars was born."
--Bell Benton
In 1969, teacher and poet Bell Benton conceived the idea for Pencils Full of Stars, a collection of poetry by young writers. Written by elementary children across the Anchorage School District, in Anchorage, Alaska, the collection was compiled and published following each academic year. For the next 29 years, Benton guided the pencils, discovered the stars, and kept Pencils Full of Stars alive through its yearly publications.
Bell Benton passed away in 1998, after which the Eta Chapter of Delta Kappa Gamma International, a society of women educators, set up the Bell Benton Memorial Poetry Award. The Award works to honor excellence in poetic expression and honor Bell Benton, founder of Pencils Full of Stars.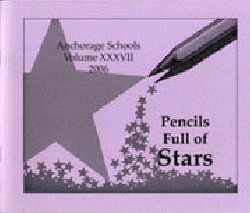 2006 Pencil Full of Stars Cover

Other award-winning children's work is showcased in Pencils Full of Stars in memory and honor of Margaret Mielke, Alaska's first poet laureate. The UAA Archives contain this short biographical note: "Margaret Alyce Gustafson was born in 1912 in Minnesota and died in 1980 in Anchorage. Her poetry was published in newspapers and in two books (1934 and 1938). She married John C. Mielke in 1937 in North Dakota. They had six children. Margaret G. Mielke continued writing poetry after moving to Alaska in 1940. It was published in newspapers, national magazines, and anthologies. She edited and compiled anthologies including the Anthology of Contemporary Alaskan Poetry and was poetry editor for the Anchorage Times. She was active in the formation of the Poetry Society of Alaska and the League of Alaska Writers. In 1963, Margaret Mielke was chosen as the first Poet Laureate for Alaska. She was well respected for her knowledge of poetry structure, and inspired and encouraged many writers."
Annual Bell Benton Memorial Poetry Award Winners
Annual Margaret Mielke Memorial Poetry Awards