E. Lee Gorsuch: I feel almost like a criminal cutting short your education as each of these speakers stands up to share incredible insights on this important piece of history. There were many concerns expressed during the process of lobbying through the formal enactment, and I want to ask Julie to share her insights. I remember the National Congress of American Natives was concerned about the idea of a departure from lands in trust to fee simple. There was a provision in the Settlement Act, which basically said that this act should be accomplished rapidly without establishing any permanently racially-defined institutions and it raised this big concern about termination. So Julie, could you talk about how it is that Alaska still has tribes, notwithstanding this language, and what kinds of relevant changes had to be made to the Settlement Act for its implementation?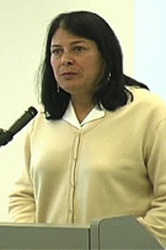 Julie Kitka

Juile Kitka: Thank you, Lee. Good morning everyone. I was asked to talk a little bit about the tribes as well as the land claims. As you know, the land claims included provisions for Native people to set up and incorporate both village corporations and regional corporations. At the same time, we had tribes all over the state that did not have formal federal recognition but were being recognized by the federal government for a long time. People knew there were tribes, but it was too complex to deal with. It was put aside as an unresolved issue that would be dealt with sometime, and some people felt it would go away. There was a strong feeling that the corporate structure, definitely from the western experience, was a vehicle for economic development and empowerment of people, and that vehicle would help the Native people regain some economic and political power in the state and be able to protect their land and go forward. There were quite a number of views, but in the big picture, that never really was the issue on the forefront. The issue was whether or not we were going to be able to get our land and whether or not we were going to get the resources to build a future for our people.
When we talk about changes to the Land Claims Settlement Act, many of you know that we have put technical amendments before every Congress since the Land Claims was passed. Every two years we have a package of amendments that get passed. One of the biggest ones that we got passed was in 1986, and it dealt with the "1991" problem. The Land Claims Settlement Act had a provision that on December 18, 1991, our stock and our corporations would go public and therefore be freely traded on the marketplace. There was great fear that if that occurred, Native people would basically lose their lands and Native individual ownership would be totally devalued in the free market because of greater wealth around the world and in the United States.
This package of amendments, which was called the 1991 Amendments, dealt with four major flaws or errors in the Land Claims. The first one was that date of December 18, 1991. The second issue had to do with land protection from taxation, so there didn't have to be forced development of Native lands that people were using for hunting and fishing just to pay taxes. The issue of exposure of private fee land to taxation and the loss of Native lands due to taxation was a major issue. The third major issue dealt with in that package of amendments dealt with our children. In the Land Claims Act, you could only become an original shareholder in a corporation if you were born alive and a U.S. citizen and Alaska Native on December 18, 1991, so all the children and grandchildren born since then would be basically disenfranchised from their land and from their communities. That was a major issue that needed to be addressed. As people took a look at the growing Native population, the conflicts and concerns grew larger. The fourth major area had to do with our elders. We knew many of our elders had sacrificed so much for us and our parents were passing away just as the Settlement Act was being implemented, so they would not benefit. There was a desire to do something special for them. Under the corporate system, we could not do something special for one shareholder and not for another, so we needed that amendment package to authorize us to do something special for our elders.
There was a fifth area that we were not successful in trying to correct, and that was the Tribal Option. It was a provision to allow those areas of the state that preferred to use tribal mechanisms to hold their land and resources to transfer their land to their tribes and have the same type of protections on their land, or to stay with the land as opposed to disappear once it transferred out of the corporate system. That was not accomplished through Congress in that package of amendments, but the other four were.
That gives you an example of a concrete problem that Native people have with the Lands Claims and how aggressive Alaska Natives have gone back to Congress year after year to address those concerns and try to make the Land Claims Settlement a living piece of law that is tailored to the diversity of the state. We envision that every Congress from here on out will be dealing with packages of amendments as we try to fine tune things, as our needs change or as new complexities come up. That's the way we view the settlement as opposed to being just a law that's passed and everybody's either got to either comply or not. It really is a settlement. It is intended to meet the needs of the Native people, needs that change over time. Things will keep changing as we develop our tribes and our capacity throughout the state.
Other major issues that didn't get resolved are still very current within the Native community. Issues such as subsistence hunting and fishing, governments and the ability for Native people to have greater control over every aspect of their lives. Those are two areas that still stand out and cry for resolution. Some may get resolved through amendments to our Constitution, but others will be resolved with further work in Congress.