On May 2, 1927, the Alaska Legislature officially adopted 13-year-old John Ben "Benny" Benson's Alaska flag -- "eight stars of gold on a field of blue." Benson had submitted his design in a 1926 American Legion contest for Alaska students.
The bill adopting the flag stipulated that Benson's design was selected "for its simplicity, its originality and its symbolism." The Legislature had the grace to incorporate much of Benson's poetic language into the bill, and this later became the basis for the stirring lyrics of the Alaska Flag song.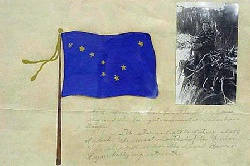 Benny's original entry; now in the Alaska State Museum

Benson was born at Chignik on Oct. 12, 1913, the son of an Aleut-Russian mother and a Swedish fisherman father. When Benson was four, he and his younger brother and sister lost their mother to pneumonia. Benson was a student at the Jesse Lee Home in Seward at the time of the contest, which the American Legion held "in the public, private and Native schools of this Territory." According to the Alaska Blue Book's description of the story, Benson was prophetic in describing his design because he referred to the "future state of Alaska." He penciled these words along with his submission:
"The blue field is for the Alaska sky and the forget-me-not, an Alaska flower. The North Star is for the future state of Alaska, the most northerly of the Union. The dipper is for the Great Bear -- symbolizing strength."
Although Benson misspelled "strenth" and later worried about the mistake, the judges apparently overlooked it. The Legislature awarded Benson a watch and a scholarship, which he used for school in Seattle, studying diesel mechanics. Later, he lived for many years in Kodiak, where he was an airplane mechanic. He died July 2, 1972.
The flag is memorialized in "Alaska's Flag," a poem by Marie Drake, a longtime employee of the Alaska Department of Education. Her poem, first published in 1935, was adopted in 1955 as the state's song. The music was composed by Elinor Dusenbury, an Army colonel's wife.
Drake's famous poem calls to mind Benson's design and ends: "Alaska's Flag to Alaskans dear, the simple flag of a last frontier."
copyright © 2003, Anchorage Daily News, reprinted with permission