Elaine Griffin has been on the Chiniak Library Board since the library was founded in 1985. She and her husband, Ned, are team teachers in the Chiniak School, on Kodiak Island. The school has about 35 students, grades 1 through 10, and sits adjacent to the library. Besides the Tsunami Emergency Evacuation Building on higher ground behind the school, these are the only public buildings in the community. Home to about fifty people, the village sits on the northeast tip of Kodiak Island, about forty miles from the town of Kodiak. Although connected by a gravel road with the town of Kodiak, Chiniak can be a relatively isolated place, especially in winter, when road conditions can make the trip into town a hazardous and icy ordeal. Since the Chiniak Library was built, it has become the hub of the community, and with this year's internet hookup, a link to the outside world.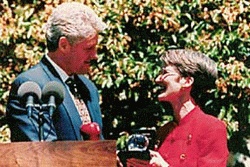 President Clinton and Elaine Griffin

Elaine and Ned have taught in Chiniak since 1981, and were teachers in Akhiok, a village on the south end of Kodiak Island for six years before that. In 1995 Elaine was named Teacher of the Year by President Clinton in a ceremony in the White House Rose Garden, and took a year off from teaching to travel around the United States promoting education. She and her husband have two daughters, now off in college.

Originally from upstate New York, Elaine earned a degree in American Studies at Barnard College in New York City, and then worked as an intern in the library at the National Geographic Society in Washington D.C. While there she fell in love with libraries, and went on to get a Master's Degree in Library Science at UC Berkeley, with an emphasis on Children's Literature. Subsequently she worked as a children's librarian in Flagstaff, Arizona, where many of the library's patrons were children from the nearby Navaho Reservation. She also earned an Arizona teaching certificate and taught in Flagstaff.

In 1975, Elaine and her husband came to Alaska to teach in Akhiok, a mostly Aluutiq community of about 250 people. They lived there for six years, and then moved to Chiniak to take up teaching positions there. An enthusiastic believer in the power of education and reading, she uses the Socratic method of teaching with students as young as third grade.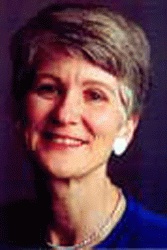 Elaine Griffin

The library is the focus of the Chiniak community, she says, and though mostly supported by state and federal money, tremendous involvement and fundraisers by local residents have raised extra money for computers and books. The head of the Chiniak Library Board, Susan Butler, puts in "hundreds of hours a month" according to Elaine. Since going online earlier this year, the library now offers free internet access for anyone who walks in. The library also sponsors outreach programs with computer instructor Brian Cleary who drives out from Kodiak College to teach computer skills to local residents.

"There are two things which give depth and meaning to our lives," according to Griffin, "the community of friends and family, and the greater world of ideas beyond our own personal lives. Because of technology it is more possible than ever before to participate in both of these worlds while living in rural areas. Neither of these requires a person to live in a large community, given the technology to participate from afar. In fact, it may be better to live in a small place. Smaller groups are more conducive to active participation. Classrooms can have too many people, making some people not participate. So too with communities. Libraries have always been the nexus to the world of culture and learning, and with online access even rural Alaskan libraries can be gateways to information and communities worldwide. This holds tremendous promise for Alaska."

In a statement while she was Teacher of the Year, Elaine had this to say about learning and education:

"My message to Americans is to glory in the ragged edges of our spontaneous enthusiasm. Don't wish for a unilateral answer to our educational dilemmas. There will never be a single solution that will be a perfect fit for our diverse society. Instead, we should work toward partnerships of families, communities, and educators who enjoy the process of problem solving."

"Nothing could be more adventurous than helping students learn to teach themselves. As I watch them in school each day, I see students trying to make sense of the world so they can understand who they are, where they fit, and how they relate to their fellow man."