Derek Vincent, an Anchorage photographer, won first place in the professional category in the "Beyond Words: Celebrating America's Libraries" Photo Contest sponsored by the Library of Congress and the American Library Association. He was awarded $1,000 for his photo.
The contest was designed to celebrate the upcoming Bicentennial of the Library of Congress, and entrants were asked to "capture the spirit of America's libraries" with their photos. Local libraries sponsored the contests in their areas, and only the first place local winners were forwarded on for national consideration. Vincent entered the contest via Anchorage Municipal Libraries' local contest, where he received first place in the professional category. Anchorage Municipal Libraries then submitted it to the national contest.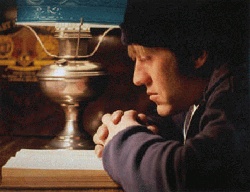 'Man Reading by Lamplight' by Derek Vincent

Mr. Vincent's photo was "Man Reading by Lamplight." Judges' comments included: "Good use of color to create mood; technically well done; nice, tight cropping; good composition; intimate."
Winners were chosen in three divisions: professional, amateur/adult, and amateur/youth (ages 6-17). National winners' entries are displayed at the Library of Congress and on ALA's website (http://www.ala.org).
The Winners:
#1 First Place Professional
Derek Vincent
Untitled: Man Reading by Lamplight (photo above right)
#2 Second Place Professional
Derek Vincent,"Changing Times"

#3 First Place Amateur Adult
Rachel Ambrose, age 18 "Child Reaching for Books" (Ann Stevens Room of the Z.J. Loussac Public Library)
#4 Second Place Amateur Adult
Mary Kancewick, "Snuggled Up with a Book and a Brother at the Library"
#5 Third Place Amateur Adult
Katie L. Rousey, "Fun in the Sun Library"
#6 Honorable Mention Amateur Adult
Mary Kancewick, "Foursquare Smiles Among the Stacks"
#7 First Place Amateur Youth
Regina Senior, age 17, "What a World"
#8 Second Place Amateur Youth
Matthew Smith, age 10, "I Like These Books"
#9 Third Place Amateur Youth
Matthew Smith, age 10, "Total Absorption"
#10 Honorable Mention Amateur Youth
Michelle Phillips, age 17, "Think to Read - Read to Think"
#11 Honorable Mention Amateur Youth
Sophie Wiepking-Brown, age 7, "I Can Read by Myself"
Local judges included: Deborah Tharp, assistant professor and area head of photography at University of Alaska Anchorage; Don Decker of Decker/Morris Gallery; and Bob Hallinen, Anchorage Daily News photographer.
Local sponsors and prize donors included: Friends of the Library, Anchorage Daily News, Blaine's Art & Graphic Supply, Barnes & Noble Bookstore, Castleton Enterprises, Stewart's Photo Shop, Keller's Custom Photo Lab, Photowright Laboratories, Uptown Blossoms, Mexico in Alaska, and Classic Woman.
Copies of photos (color or black and white) are available upon request. Call Barbara Brown at (907) 343-4363.