A nostalgic look at a lively, bustling bookstore that no longer exists.
Anyone who visits Borders Bookstore regularly knows that on any night of the week something interesting is going on in the store. It might be live music in the cafe, a reading and book signing, a meeting of the local chess club, or a presentation on how to choose a puppy.
Once in a while someone comments that the bustle and noise make it difficult to read. It is, after all, a bookstore.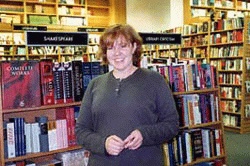 Camille Oliver, Border's community relations coordinator.
"Well, it's more than a bookstore," says Camille Oliver, Border's community relations coordinator. "It's all part of the Border's philosophy, the idea that we are a community center. One of Border's slogans is 'Come Inside.' That means you can come in and find new interests by reading the books or by taking part in the events and discussion groups."
In addition to acting as Borders' liaison with the community, Oliver plans the store events, including the numerous fundraisers for nonprofit organizations. She books musicians for the café, works with the staff in the children's section to plan events for kids, including the art projects they do during Storytime and the book characters in costume who come through town. She even coordinates and helps hang the art shows in the café and throughout the store.
There have been fundraisers for everyone from local schools, who raise money by wrapping gifts, to the Anchorage Opera for which members of the opera performed in the café. "As you can imagine, with the acoustics in here," Camille says, "they could be heard by everyone in the store."
Art shows at Borders have featured The Art Quilt Network, The Alaska Watercolor Society, and the Alaskan Artists' Guild, and art students who appreciate the chance to have their art shown. The Anchorage Search and Rescue did a presentation and brought in their dogs, a great favorite with the kids. In another event, a Russian Grand Master played chess with 22 people at the same time – walking from table to table. And the store is occasionally host to a bald eagle or snowy owl brought in by the Bird Treatment & Learning Center.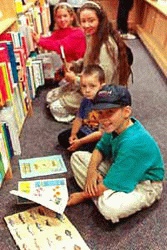 Young readers at Borders.

"It's all relevant, because we sell so many different kinds of books and music and all kinds of other things," she says.
"I remember the first time I went into a Borders that had a café and music store as well as a bookstore. It was such a treat to be able to get a hot chocolate, listen to the newest blues CDs and dig through the home improvement section to find new ideas for making curtains. People can meet friends in the café, bring their kids to Storytime, study in a quiet corner somewhere, or come to hear their favorite local band. Coming here has become part of peoples' social lives."
Camille sees a lot of kids who come in with their parents all the time, so they are growing up surrounded by books.
"The kids are comfortable here," she says. "They come in, have fun, maybe make a mess...and read the books. I grew up reading books, but I never had a place like this to go with so many choices. There's got to be something for every kid and every interest. And if they start young, they'll be hooked. It must be the best way to improve literacy."
Some people are afraid that big chain bookstores like Borders are going to homogenize and limit the variety and number of books available to readers. Oliver says just the opposite is happening. With the big space they have, they can have a huge diversity in the books.
"The people who come in here expect a large selection. We have approximately 150,000 titles, and about 10,000 more during the holidays. The people who work for Borders love books. We want to see even more diversity, not less," Oliver says.
Even with all the activity Borders patrons have come to expect, many people go to the store simply to pick out a book and sink into one of the comfy chairs scattered around.
"Some people do this regularly, and spend hours reading the books here," Oliver says. "That's great. That's what we want to see."