Café, Cinema, and Off-Center Playhouse
Sandy Harper, Owners 413 D Street Anchorage, AK 99501


Anchorage, AK 99501
Phone (907) 274-2599
Fax: (907) 277-4698
Update: Jerry Harper passed away in 2005. This profile piece was written several years earlier.

Jerry Harper and his wife Sandy, a former talk radio producer, moved to Anchorage from Seattle to open a little literary bookstore and café, and have seen their small store grow into what they call a "cultural mini-mall."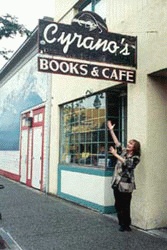 Sandy Harper

In a feature article in the Publisher's Weekly Book Selling section, author Karen Angel notes that while many independent bookstores have forged unique identities in order to survive in a market with book chain giants, "few bookstores in the U.S. have branched out as far as Cyrano's Bookstore, Café, Cinema & Off Center Playhouse."
Jerry Harper inherited the building at 413 D street in 1987 from his stepfather, Z. J. Loussac, the Alaskan philanthropist for whom the Anchorage Library is named. The cafe, the Bistro de Bergerac, is run by Libyan chef Norie Misallati and his wife Megan. They serve elegant French and Mediterranean food, along with wine and beer. The basement is rented to the Chilkat Art Gallery, which features art by local painters, basket weavers and ivory carvers.
The 86-seat Off-Center Playhouse and its resident troupe, the Eccentric Theatre Company (ETC), represent Jerry's return to his main love -- acting and directing. He and Sandy are proud of the company's growing reputation.
And there is the bookstore, two comfortable rooms with eclectic furnishings and an equally eclectic selection of books. Cyrano's stocks 11,000 titles, focusing on paperback fiction, the arts, the classics, cookbooks and Alaska books; and the store always displays copies of the play that is running in the theater, or the book that inspired the play.
Sandy Harper in the 86-seat Off-Center Playhouse

As busy as their bookstore and many projects keep them, Jerry and Sandy Harper have been leaders in supporting the arts in Alaska, giving local artists, writers and indigenous storytellers a venue to show and perform their work.
In 1989, shortly after she and Jerry opened Cyrano's, Sandy formed "Partners in Literacy," a small coalition of booksellers, librarians, educators, writers and publishers; she saw the group through the process of becoming the Alaska Center for the Book, the 24th member of the Library of Congress Center for the Book.
Though Sandy no longer serves on the Center's board, she and Jerry actively support the group. As Sandy says, "One of the best and most important ways to develop human potential is to make sure every person has access to the richness that reading and writing can bring to life."