Sharon McClanahan, assistant manager
Donna Bozeman, manager
3101 Penland Parkway
Anchorage, AK 99508

Phone (907) 276-2876
Fax (907) 279-7192

Update: Waldenbooks closed in 2007. This profile was written a number of years prior to closure.
When Sharon McClanahan, assistant manager of Northway Mall Waldenbooks, was conducting a book fair at Chugiak Elementary School, she realized there was a great need for books in Spanish because of the Spanish Immersion Program at the school. As a result, the book store now regularly receives Spanish books.
The store also has a wide variety of African-American fiction and nonfiction as well as Spanish books and magazines. It also sponsors a monthly book club,"Tending Your Garden," featuring African American fiction.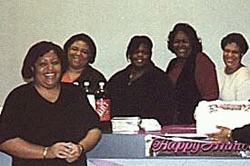 Photo is of members celebrating the bookclub's second anniversary. They are, front: Co-Moderators: Valerie Moore (L) and Donna Bozeman (R); back, from left: Lori Colbert, Dana Matthews, Joyce Weave, Debra Rice, Starla Alston, Patti Sanders.

McClanahan says the store is carefully geared to the needs of the community it serves, Mountain View. She and manager Donna Bozeman regularly meet with members of the community to find out what readers need and want.
"The key is communication," McClanahan says. And so is getting involved in the community. "In addition to books and magazines for the members of the Hispanic community here," McClanahan says, "we realized the kids learning Spanish at Chugiak need children's books and dictionaries. The program also has created other areas of Hispanic interest, such as Hispanic history."
She says it is difficult to find books in Spanish, but by getting on a Hispanic Interest list, she is regularly receiving more Spanish books. One of the latest is a Spanish translation of the popular series "Chicken Soup for the Soul".
Another thing that makes this Waldenbooks unique is its "New Arrivals" wall, which is devoted entirely to fiction by African American authors. Manager Donna Bozeman says this started out as a six-month experiment to discover new and lesser-known African American authors, and to make their books available to her community.
"Everyone knows about Toni Morrison and Terry McMillan," Bozeman says, "but there are so many others. J. California Cooper, author of Some Love, Some Pain, Some Time is the one who started me on my quest to discover more black authors. When I first started ordering these books, I had to read everything that came in. But now there are just too many!"
The section has become something her customers count on. In response to its popularity, Bozeman started a bookclub called "Tending Your Garden" to discuss the work of these authors. She also writes a newsletter, which includes national reviews of new books, reviews written by club members, and her favorite pick, called the "Bloom of the Month."
While the club regularly has 10 to 15 people at its meetings, the mailing list for the newsletter is much bigger. To celebrate the book club's second anniversary last February, the store held a fundraiser book fair, with 20 percent of a whole weekend's sales going toward the creation of college scholarships for four graduating high school seniors. The winners were chosen on the basis of essays about their favorite books and about how the books have impacted their lives.