Owners: Lee Post, Jenny Stroyeck, Sue Post
332 E. Pioneer Ave. #1
Homer Alaska 99603
Phone (907) 235-7496
Toll free in Alaska: 888-635-2665


Lee Post, part owner of the store for the past 20 years, says the owners know their customers well because Homer has low turnover of population. "We let people tell us what they want to read; we don't tell them 'this is what there is to read,' " he says.

The Bookstore offers a special focus on Alaskana and children's titles as well as classics. It also carries a great card selection.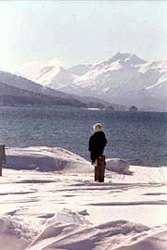 Eagle on Homer Spit

Post says the store has a dual season. "In the summer months when the tourists come through we sell a lot of Alaskana and books for rainy-day reading," he says. "In the winter, the locals who have been too busy to read all summer get down and do some serious reading. That's the time we sell a lot of classics."
Post says that for the size of the town and his store, he stocks and sells a higher percentage of classics than any other bookstore, practically anywhere, that he knows. "There are a lot of highly educated people who live here," Post says. "When they have time to read, they like to go back and read the classics they love. We also have a lot of writers here, people interested in great books."
It has taken 20 years of "fine tuning," Post says, but he and the other owners are good at listening to and predicting what their customers want, and they send very few books back to the publishers.
"Just the fact that we are a small independent makes us unique," Post says. With a location overlooking of Kachemak, he says, "I'm sure we have the most beautiful view of any bookstore in the world."