Tom Richards: Our next speaker came to Alaska in the 1960s to serve as counsel to the Federal Field Committee, which was established following the 1964 earthquake to help revitalize and rebuild the Alaska economy. It was later given the task of examining the aboriginal rights of Alaska Natives and proposing potential terms for a settlement of Native land claims. She has also served as Commissioner of Natural Resources for the State of Alaska and has an extensive background in legal affairs and in examining the rights of American Indians and Alaska Natives. We would like to welcome Esther Wunnicke please.
Esther Wunnicke: Thank you, Tom.
Tom Richards: Maybe you could take a few minutes to give a general overview about how you became acquainted with the American Indian, and Native American and Alaska Native Affairs and your involvement in developing proposals relating to the settlement of Native claims.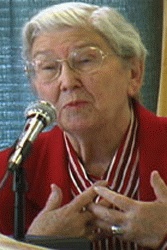 Esther Wunnicke

Esther Wunnicke: I can't tell you what my ancient names were or what tribe I belong to but I think you do need to know some of my own cultural background and why this is so important to me. I grew up in New Mexico. My grandparents moved to Oklahoma, and their neighbors were the Osage Indians on the Osage reservation before Oklahoma was a state. My parents moved to New Mexico and their neighbors there were people of the Navajo nation on the Navajo reservation before New Mexico was a state.
When you look back on what I've done in my career it looks like it was all planned out. It was actually a long series of happy accidents but the article I wrote for the law review at George Washington was "Federal Islands within the States," and I think the point John made about the plenary power of Congress with respect to Native people and the fact that Congress had the final say in terms of the settlement of the aboriginal claims of Alaska Natives, is very important to remember. I've always had a great interest in Native cultures and Native people. The first time I heard of aboriginal title was in a program that Joe Rudd and Ted Stevens were in. My husband was going to go to the program, but he had the flu. I said I would go and listen for him and come back and tell him what I had heard. That was the first time I had heard a discussion of aboriginal title.
I owe almost my whole career in Alaska to a little note that was left on my door one day by a woman by the name of Ruth Fitzgerald. We had been active in the League of Women Voters together. I had not come to Alaska to practice law, I was going to be a mommy but the League of Women Voters saved my life and my sanity. Ruth and I, among other things, conducted a survey on housing discrimination in the Anchorage area. We came up with some damning evidence of the discrimination that was visited on the Black population and on Alaska Natives. One day I came home and found this note on my door from Ruth that said, "If you want to work on Native issues call this number." So I called the number, and it was Joe Fitzgerald's number and he was chairman of the Federal Field Committee. It was called the Federal Field Committee for Development Planning in Alaska and its purpose, as you said, Tom, was to lead the federal agencies in Alaska in reconstruction efforts after the '64 earthquake. The committee members of the Federal Field Committee were the heads of the major federal agencies in Alaska. At that time, Governor Hickel put together a kind of shadow group of the heads of state departments that mirrored the make-up of the Federal Field Committee, and we worked closely with them on a number of issues.
One of the first things I worked on with the Federal Field Committee was a report on Alaska Natives and federal hiring practices, and we found there that there was a great reluctance on the part of federal agencies to hire Alaska Natives. I'm sorry to hear this morning that it still is a dismal record in many agencies. It is a much better record that it was in 1967, but it is still a dismal record.
That was the beginning and when Senator Jackson asked Joe Fitzgerald for documentation of the land rights and the condition of Alaska Natives he pointed to the Federal Field Committee largely because Senator Bartlett, who was then the Senator from Alaska, had recommended that Joe Fitzgerald and his staff would be the people to do that work. That is what this huge book is and I know some of you have seen it and some of you have probably even read it. Charlie Edwardsen said the reason it was so big was so it would drop between your knees and you wouldn't have to read it.
There were very few members on the staff of the Federal Field Committee. The lead staff member with respect to this piece of work was Dave Hickok, who was a senior staffer for the Federal Field Committee from its very beginning. There was also an organization at the federal level in Washington, D.C., of those same federal agencies that made up the membership of the Federal Field Committee in Alaska. Another member of the staff was Robert D. Arnold and some of you I'm sure know Bob Arnold. He is an extremely fair, educated, humane person and he was responsible for most of the work with respect to health conditions, educational levels, employment conditions and so forth that Alaska Natives were suffering at that time. The third person, besides myself, was Doug Jones, an economist. Later, he left the Federal Field Committee and was followed by Arlon Tussing, who you made have heard of, because he's still very active. He also was an economist. My contribution was to look at land ownership and land title and the history of the land.
The Federal Field Committee staff concluded that there was indeed aboriginal title that had not been extinguished. In 1935, the Tlingit and Haida went before the Court of Claims to receive compensation for the taking of the Tongass National Forest and Glacier Bay in 1935. In 1968, at the time we were working on "Alaska Natives and the Land," the Tlingits received, I think, $7.6 or $7.2 million. Do you remember, John?
John Borbridge: It was $7.5 minus expert costs and it came to $6.8 million.
Esther Wunnicke: So $6.8 million was actual payment, but it was a monetary compensation. There were no lands restored to the title of the Indians of Southeast Alaska. This was the only option time that Native people had at that time, in terms of the extinguishments of their aboriginal title. The Federal government was obligated to compensate them.
So every time a park was created and removed from their use, every time that state selections were authorized at the time of statehood that would potentially take land from their use into some other ownership, it was the obligation of the federal government to compensate them. But what was most important, at that time, was that the Native people of Alaska didn't want to be paid 48 cents an acre for the Tongass Forest. This was before Prudhoe Bay. I've often mused to myself what would have been the result if we had paid for Prudhoe Bay at the time of extinguishment of aboriginal title there on the basis of fair market value. It amuses me, anyway. But there was no provision. That was the option that other Native people of Alaska had, to do what the Tlingits had done in 1935. Many of the other groups did not have as good a record, or as much documentation as the Tlingits had had in pursuing their claim for compensation before the Court of Claims. So the Native groups filed claims almost across the State of Alaska, two-thirds of Alaska was blanketed by claims of use and occupancy by Alaska Native groups.
This was about the time that Prudhoe Bay had been discovered, in 1967, and there was a great push to build a pipeline. Does that sound like news to you today while everybody's talking about a gas pipeline? Anyway, there was a great push to build the pipeline, to market the oil that had been discovered at Prudhoe Bay, and intervening were these claims that had been filed. At this time in terms of land ownership, there were 500 acres in fee simple ownership and 15 thousand acres in limited ownership through allotments and other restricted title. That was the ownership of Alaska Natives in the western traditional idea—fee simple ownership or legal ownership. The next threat was the over 100 million acres of land that had been promised to the State of Alaska and its selections. So Secretary Stewart Udall instituted a land freeze until these claims could be addressed. That was the situation before we went to Congress with the proposal that later became ANCSA.
There was a lot of concern that all of this land, finally allocated in ANCSA, was going into private ownership. I think this is something that many people overlook. These lands are owned by Alaska Natives just like I own my two lots in Anchorage. I think that most people somehow think they're not private property or they're not owned in that way. The environmental community at large suddenly realized, as things came down to the final passage of ANCSA, that here were 40 some million acres that were going into private ownership. So, one of the reasons for 17(d)2 was to balance that with the creation of additional parks, additional refugees, additional wild and scenic rivers and so forth. Another part of 17(d)2 was the creation of the Federal State Land Use Planning Commission.
The Federal Field Committee ended, by the terms of its establishment, in July 1970. It was no longer in existence when ANCSA was passed. During that interim I worked briefly with Attorney General John Havelock and was in Washington, D.C., but I was not part of the negotiations. That gave me another perspective because in addition to the obligation of the Federal State Land Use Planning Commission, which I joined as co-counsel with John Katz in its beginning in 1972, I also served later as director of policy and research. Finally, in the Carter Administration, I served as the co-chairman of the Federal State Land Use Planning Commission. The obligation there in addition to examining and publishing a lot of other background materials for the Congress, were those additional parks and wildlife refugees and wild and scenic rivers and other federal enclaves that would be acted upon by the Congress in ANILCA…so one thing leads to another.