Esther Wunnicke is the former commissioner of the Alaska Department of Natural Resources and a member of the public policy group Alaska Common Ground. Among other documents, Wunnicke co-authored, with R.D. Arnold, "Alaskan Natives and Federal Hire" for the Federal Field Committee for Development Planning in Alaska.
Sharon McConnell: What were you doing during the years before and after the Claims Act was passed?
Esther Wunnicke: I was counsel to an organization called the Federal Field Committee for Development Planning in Alaska. It was a federal committee initially organized in response to the 1964 earthquake. It later became apparent to the leadership of the Federal Field Committee that the Native claims that were being filed really needed to be resolved. We began work on a very huge document called "Alaska Natives and the Land," and the authors of it were the staff of the Federal Field Committee, and that included Bob Arnold, who later wrote a textbook on ANSCA, Dave Hickock, and me. It was the document that allowed Congress to understand what role Alaska Natives played in Alaska, and how much threat there was to their occupancy of the land and their title to the land by the recent Statehood Act, which gave the state of Alaska the right to select a number of acres of land.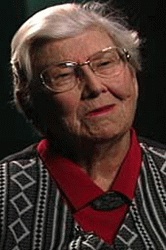 Esther Wunnicke

The other critical thing was that, in 1935, the Tlingit and Haida had gotten special permission to bring suit against the federal government for taking away their lands in the Tongass Forest. It wasn't until 1968 or 1969 that they finally were compensated for that, at 48 cents an acre. But none of their land use or land rights were protected; it was only a money judgment. Given that option, there was a concerted effort to file allotments for Native people, and a concerted effort to file claims throughout the state by the various Native groups. It was interesting to be there at that time and to see the infant Alaska Federation of Natives work a miracle in a way, because some of the people who made up Alaska Federation of Natives had been traditional enemies. They worked together long enough to get the Alaska Native Claims Settlement Act passed by the Congress. I always thought it was a minor miracle in itself that that happened, because the other option would have been for them to do as the Tlingit and Haida had done and get a money judgment for whatever lands the federal government had taken away from their traditional rights.

Sharon McConnell: What was the promise of ANSCA 30 years ago, and has it fulfilled its promise?

Esther Wunnicke: That's a very good question. I think it's still a work in progress, and I think some regions have been more fortunate and better led than others, and so they've been highly successful in terms of contributing to the welfare of their shareholders through dividends and so forth, and making good judgments as to how the resources are used. I often use NANA as an example of the best implementation of the promise of the Claims Act, and they did that in a number of ways. One by immediately involving the villages in the northwest region in all their initial decisions, even though they were a profit-making corporation -- the regional corporation was, and, of course, they've had Red Dog Mine that contributed a lot to the employment situation in northwest Alaska. I think that is what was intended, to put the means in the hands of the people so they can make their own decisions and work out their own destiny. It's a mixed bag. Not everyone had the same resources, not everyone had the same leadership, and not everyone has benefited equally. But there was an intention for people who were in regions that didn't have a lot of resources to share in the benefits of the resources from other regions.

Sharon McConnell: What kind of changes have you seen to help Native people here in the state because of ANCSA?

Esther Wunnicke: I think you certainly have two or three new generations of Native leaders who are well-educated and well-informed, really outstanding leaders, whether they're in their traditional villages or in the urban society of Anchorage or Fairbanks. I think that's been one great benefit from ANSCA. Recently, I had the opportunity, with the Rural Governance Commission to go into some of the villages that I had been in 20 or 30 years ago. I was able to see how, using all the tools available to them, the leadership of those villages were very successful. They might have a tribe, they might have an IRA council, they might even have a municipality. Yet, those were the same people serving the village, and they had the wisdom to put together the resources they had to do what was best for their community. It was very heartening to me to see that kind of leadership, and again it varies from area to area and village to village.

Sharon McConnell: What do you think about the future, Esther? What do you think we're going to be facing in the next 30 years in regards to the Claims Act?

Esther Wunnicke: That the regional corporations and the village corporations created under ANSCA will always be valuable institutions. Things have changed considerably since the Claims Act was passed, and I know a lot of people question it, because they think it has insisted on corporate structure and profit-making. But again, some of the profit-making corporations have done very well in terms of financing non-profit institutions, like Southcentral Foundation here in Anchorage for medical care. I was struck, again when I was with the Rural Governance Commission, to see how much was done in the Tanana area in terms of healthcare by that same Native leadership. I think it will change, and it should; nothing should be static. I think it will continue to be a very viable backbone for the structure of how Native affairs are conducted.

Sharon McConnell: Is a favorite story you have from the past thirty years in regards to the Claims Act?

Esther Wunnicke: It was a very exciting time, and that's when I was able to meet the young Emil Notti and Willie Hensley, too. He wrote a paper when he was in college that struck a chord in everybody and he really was the genesis behind a lot of the things that followed. Here's Willie now, a very distinguished elder, and I think that's been wonderful. A great group of people made up the leadership of the original AFN, and they were all educated at Mt. Edgecumbe, which I always thought was interesting, that they had the benefit of that high school education, because that was before the Molly Hooch decision, and before the state was obligated to provide a high school education in all of the regions. I think they have good strong leadership now, and I think the tribal movement has worked towards getting some things that were not covered by ANCSA, things that had to do with the spirituality of the people and the connected matter of families and clans and tribes. It's a valuable thing, and I don't think it takes anything away from the Native Claims Settlement Act. I think that the settlement was the best option they had at the time. The land retained in Native ownership, most of it involved surface and sub-surface—which was more than the land the state of Alaska was allowed to select, because the federal government retained the sub-surface rights under all state land—so, in that sense, they really did work a miracle in 1971.

Sharon McConnell: Do you have any final comments you would like to make, Esther?

Esther Wunnicke: I'm still a great supporter. I wish with all my heart that those in the legislature who seem to be the stumbling block to the return of fish and game management to the state and a subsistence preference would see the wisdom of allowing the people to vote on an amendment to the state constitution with respect to subsistence, because that's something that was done even without benefit of law. In the beginning, there were always longer seasons and bigger bag limits in the areas most dependent on resources. I think it's tragic that the importance of subsistence -- something so important to the people of rural Alaska -- isn't recognized.