Born in Dillingham, Nels Anderson, Jr. is a lifelong Alaskan of Yupik, Norwegian and Danish ancestry. He served in the United States Air Force, and then went to college at the University of Alaska Fairbanks. While in Fairbanks, Anderson served on the city's Human Relations Commission and worked with the Fairbanks Native Association. Anderson worked in Anchorage for RurALCAP and was promoted to deputy director before moving back to Dillingham to serve as the first CEO of Bristol Bay Native Corporation. He served in the state house as resource chairman, chair to the Subsistence Special Committee, and House Majority Leader. After serving in the state senate under Governor Hammond's appointment, Anderson spent 12 years lobbying in Juneau, while still living in Dillingham.
Sharon McConnell: What were you doing during the few years before and after the Claims Act was passed?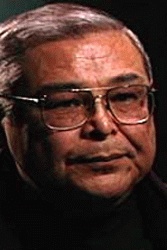 Nels Anderson, Jr.

Nels Anderson: I had just gotten out of the service three years before I got involved with AFN in 1966. After I got out of the service, I went up to Fairbanks and started tracking satellites with a lot of the other guys, Al Adams, a whole bunch of us got into that business. I cut my teeth on Native politics with the Fairbanks Native Association (FNA) and ran the Boarding Home Program for the FNA. The leadership of the Tanana Chiefs liked what I was doing, so they invited me to go to a Tanana Chiefs' Conference. They liked what I had to say, so they actually sent me as a delegate to one of the first AFN meetings in Anchorage. When I really got into it, I was invited to go to a meeting down at the Fairbanks Chamber of Commerce Building. There was going to be a guest speaker named Willie Hensley. He had written a paper on the Claims Act, and I was just enthralled by that paper and I couldn't wait to meet him. I couldn't wait for him to stop talking so I could go meet him and say, "What can I do?" He said, "Well, go up to the university; get everybody organized and talk about it." I got really excited. That's how I really got started going.
After the Claims Act was passed, I was working for RurALCAP. I was Deputy Director of RurALCAP, and I was planning on staying there, living here in Anchorage up. The delegation from Bristol Bay came over and asked me to assemble the Bristol Bay Native Corporation. I fought for the Claims Act and never thought of anything beyond that. Afterwards, I was hoping that everybody would be successful, but then when I was asked to do it I was kind of dumbfounded. I was thinking, "Well, why me?" I didn't have a formal business background; I had good organizational skills that I learned through the Claims Act and in the service. I said, "Okay." We didn't have any money so we borrowed $10,000 from the Episcopal Church to move my family and me from Anchorage to Dillingham. Then, we got that first infusion of $500,000 from the government to get everything in order. That's basically how it all began for me, and how it kind of ended. I worked there and put it all together for them for two-and-a-half years. Then I went into politics.
Sharon McConnell: What motivated you to get involved?
Nels Anderson: I thought of my dad and my grandfathers and our trap lines and hunting and fishing. I wanted to be able to protect that land. Of course, we had no idea that anything like ANCSA was going to happen at the time we were talking about it. When I heard Willie speak, I saw this avenue in my mind just open up. I said, "Hey, this is a way of not only talking about what we can do, but actually doing something." In my case, at least, we picked out the best land in Bristol Bay, and it's ours right now. I'm very happy about how everything turned out.
Sharon McConnell: What was the promise of ANCSA 30 years ago, and has that promise been fulfilled?
Nels Anderson: Many of us have gotten together over the years, and we look at each other and wonder if we had known what we knew afterwards, could we have done what we did then? We keep looking at each other and saying, "No it couldn't be done." A lot of circumstances contributed to the passage; the big thing was oil. I felt the regional organizations contributed a tremendous amount to the economic well being of Alaskans, and they gave Alaska Native people a voice for the first time. Howard Rock and his paper were kind of the glue that kept us all together during Claims Act. Then when Howard passed on, the paper went with him. It went on for a few years, but it lost its flavor and unity. The Claims Act, I think, took Howard's place and gave us the voice we really needed in those times of change. That was my greatest hope. I hope it continues to be that in the future.
Sharon McConnell: What were some of the consequences of the Claims Act that no one foresaw?
Nels Anderson: Having some of our regional organizations listed in the Fortune 500, for one. I mean, good grief, what a monumental achievement! Some of the businesses being operated right now by regional organizations, they had no idea -- telecommunication, oil services -- who would have thought? Those guys were our enemies back then, and we are working with them and making money. As we're talking about it right now, people are doing that. We have a huge number of achievements under our belt. Honestly, when I was working with Bristol Bay Native Corporation and other regional organizations, I had no idea we were going to get into these things. It's really kind of mind boggling.
Then, when you have a gathering like this, and you see the people you fought along side of and think of what you knew then and what you know now, the gap in our understanding was very wide. We had no idea of where the future was going to bring us, and look at what we've done. We have lots to be proud of and a lot to be thankful for.
Sharon McConnell: How has ANCSA changed Alaska Native people you, and how has it changed you?
Nels Anderson: I had great expectations for my corporation and for others. In many instances my expectations were eclipsed by events. People have done greater things then I thought could be done.
How did it change me? It changed my own attitude about our people. Our people are very capable -- very adaptable, energetic, and creative. They are wonderful and caring people. All those qualities helped get us through to where we are today, those are the qualities that are going to carry us forward. As a result of the Claims Act, I think we see a generation of young people now who are getting an education they would not have gotten; they have dreams now for school and work that weren't there before. We can provide those opportunities. We don't have to tell our kids to go to school anymore. Now, a lot of the kids want to go to school because they have something to work for. In that respect, I think it's a tremendous positive for our people.
Sharon McConnell: What about the next 30 years? What are some of the challenges you'll face because of ANCSA?
Nels Anderson: In the next 30 years, the regional corporations will need to think about coming back together and creating a synergy that's larger than each of the individual components by themselves. I would like to see us work to get involved in a variety of businesses that require a lot of capital and a lot of energy and a lot of our young people who are developing their capabilities right now and really creating a very, very powerful economic cash cow for our people. I think that's where we need to go. I think we have to be among the world's leaders in the area of economics.
Sharon McConnell: Tell me the story about taking the loan out on your car.
Nels Anderson: I really wanted to go back to Washington to be with Willie and Emil and the others who were back there talking to the legislative leadership. I wanted to give them my perspective on hunting, trapping and trap lines; I wanted them protected. These were things my grandfather and my father and I had talked about. I didn't want to be just a talker, I wanted to be a doer. So I talked to my wife and I said, "I know we don't have money but I'd like to get a loan on the car and use it to fly out to Washington, D.C.," and she said, "Okay." I couldn't believe it.
I went down to the Fairbanks bank, and talked to the president. He said, "You guys should have an organization to pay your way down there." I said, "Well, we don't, and I need the money." He said, "I don't know, I don't think it's a good idea for you to be using your car as collateral, you could be doing something else with it." I said "Nope, that's what I want it for."
He finally agreed and gave me the money. I bought a ticket, and went to Washington. I had a great time. People were quite surprised. People out there were saying, "Well how did you get out here?" I got a loan on my car, and I came out to help rally the troops.
Sharon McConnell: Is there a favorite story you have of an event, or person, in regards to ANCSA?
Nels Anderson: Well I hope this person won't get upset with me but, you know, most of the time when we were out there it was always very serious. One night we were invited to go out to have dinner with a number of legislative leaders and their staff members. We were all dressed up and downstairs in the foyer waiting to go; there was supposed to be a car coming to pick us up. The elevator came down, the doors opened, and out came Rafael Muran from Hooper Bay. He was wearing a tuxedo jacket, a white sweatshirt, blue jeans and white sneakers. Nobody laughed, or said anything. He was looking around at us, and we were all kind of pretending. He was talking and I couldn't take it anymore. I said, "Rafael, what are you doing?" He said, "What's wrong with this? This is good enough isn't it?" I said, "Well, I know you have to have a jacket where we're going, that's got to work." I'll never forget that. Rafael with that beautiful tux, white sweatshirt, blue jeans, and sneakers. He's a wonderful guy, very, very bright.