Alice Petrivelli currently serves as the Chair of The Aleut Corporation (TAC), and is a board member on the Alaska Trust Company. She served as the Chair of The Aleut Corporation from 1987-88 and 1989-90. In 1988 and 1996, Ms. Petrivelli served as The Aleut Corporation's Vice-Chair. She was the President of The Aleut Corporation form 1990-95 and served as Vice President in 1997. Ms. Petrivelli has also served as the President of The Aleut Foundation. She has been a Director of The Aleut Corporation since 1976. She was employed as the President of the Atxam Corporation from 1984-86.
Sharon McConnell: What were you doing a few years before the Claims Act was passed?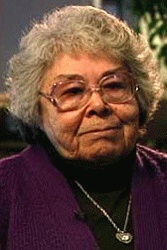 Alice Petrivelli

Alice Petrivelli: I was a housewife. I remember when I moved up here in '69, although I had a lot of members of the whole family, I had never met Lillie McGarvey. I heard about the Aleut League meetings, so I started going to the meetings. That's when I found out they were trying to take the land. That's how I first was introduced to the Land Claim.
Sharon McConnell: And then you became involved with the Aleut Corporation. How did that come to be?
Alice Petrivelli: Again Lillie. It was funny the way it happened. An old teacher from Atka gave me an Our Kind of Mother of Mary for Atka church, and by accident it was put in a cathedral here. I received a call from my brother saying, "You get that icon; it belongs out here." So I had to go through some things, and I got Lillie, and I got the icon. Lillie liked the way I stood up, so she hired me as her part-time secretary. That was in August of 1972. I started as a receptionist, and I put together the enrollment of the villages, their family trees. That's how I got started with the Aleut Corporation, recording the family histories and their relatives.
Sharon McConnell: What was the atmosphere like during those early years?
Alice Petrivelli: Actually it was up and down; it was like you were on a merry-go-round. First you think you're going to win, and then you really get depressed, and then all of a sudden you won, and it's like you were on a high. I mean, I didn't do much, but Lillie and others were just happy.
Sharon McConnell: You did do a lot. A lot of people know your name in the State of Alaska.
Alice Petrivelli: That was later. I was lucky I got in with the corporations and the board. I didn't like the way certain things were happening, so I ran for the board. I got on the board in 1976, and I've been on it more or less since then.
Sharon McConnell: What do you think the promise of the Claims Act was, and do you think it's fulfilled that promise?
Alice Petrivelli: In some ways it has. It has created employment in the villages. I think that we had really high hopes that it would put a lot of economics into the villages and some money in the pockets of the shareholders and it has nearly fulfilled that part. Some of the villages have been successful. They've created employment, they've employed their people, and they've educated their people. I'd say it's about 65 to 70 percent successful. I mean, they put so many restrictions on us in the beginning that it was hard to do anything.
Sharon McConnell: What do you think are some of the developments or consequences of the Claims Act that nobody really foresaw?
Alice Petrivelli: The way that some of them would succeed. I always wondered why they created 13 regions. When you look at the way some of them have succeeded, even Aleut. They have been up and down. Can you imagine if we had been one corporation; how awesome it would be? They had the employment part and the most important to me is education, how almost every region has created a foundation that provides scholarships for their shareholders, even the village corporations. I think that's the best part of it, providing financing for our shareholders to go to college. Yes, it's true that a lot of them never go back to the villages, because we don't have anything they can do in the villages, but they're able to hold their own outside of the village.
Sharon McConnell: What about the issue of "After-Borns," or people who were born after 1971. That was an issue that no one really foresaw when the Claims Act was passed.
Alice Petrivelli: It has caused a lot of problems. We've done two surveys. When I was the President of the Village Corporation it was split right in half. When we checked our results the women were the ones who said yes and it was the men who mostly said no. They felt they didn't want their shares diluted, that their kids would inherit them anyway. The way one woman put it, "Even if I don't have shares, I'm an Aleut. I don't care what the law says. If I give all my shares to my kids, even if I don't have one share, I'll still be an Aleut." I think she's right.
It was really divisive in some families, because some of them felt they didn't want to dilute their shares and the other half felt just since they're my kids they have every right to be shareholders. At the regional level it's almost the same result, but this last survey we did, I think, shows we're getting there. You need to set policies before you open it up. Otherwise, it creates a lot of problems.
Sharon McConnell: How do you think the Claims Act has changed Alaskans, especially Alaskan Natives?
Alice Petrivelli: This is my personal opinion. Before the war I lived a complete subsistence lifestyle. During the war, we were evacuated, so we were introduced to the cash economy, and when we went back to our villages, we still shared. It didn't matter. When Land Claims came along it divided the village because of the division of the land. Before the war, if I had a cabin you could use it as long as you didn't damage it and you replenished the supply. All of a sudden the sharing kind of went out of the door, mainly with the younger generation. Elders are still willing to share, and the 50 year olds, they still share, but the younger generation is reluctant to share. I think that's one aspect of it.
Also, competition between villages was created. Now, they're forever competing with each other. It shouldn't be that way; we're all one people. Those are the two downsides of the Act that I see.
Sharon McConnell: Let's look into the future. What do you think the next 30 years are going to hold for ANCSA and the Native people of Alaska?
Alice Petrivelli: I think it will go on for a long, long time because number one, our young people are getting educated. Me, I live in two worlds. During the day when you're working you live in the Western world, then you go home and live your own Aleut lifestyle. When I'm home I speak Aleut. It's kind of sad, today the young people are more used to the Western culture than they are their Native cultures. They're educated and sophisticated. They're learning to negotiate, and they're learning the aspects of how to do business. That knowledge could still be around for a long, long time.
Sharon McConnell: I know you said you weren't involved when the Claims Act was being negotiated and finalized but you were there during the early years. What is the most vivid memory you have of those years of the Claims Act?
Alice Petrivelli: The biggest effect in our region was when we began, we had at-large elections and each village had a representative. We had meetings for two weeks at a time because we couldn't agree. They sat back and looked at the make-up of the board and decided nine people, a three-year term, and surprisingly it passed. That was a really positive aspect for the Aleut Corporation. A lot of people don't think so, but I believe that it is. Can you just imagine working with 13 villages, another at-large rep, I mean it was huge, two weeks at a time, I remember. When I got on the board, one meeting lasted two weeks.
Sharon McConnell: Can you tell us a little bit about Lillie McGarvey's role and what you remember about her?
Alice Petrivelli: She worked really hard. She and Flore were the people who made sure the Aleuts were included. I think she said at one time when they looked at the map, the Aleuts weren't even involved in land selection. They made sure that they were, and she worked hard with Mike Swetzof, and went to the meetings. They traveled throughout the village, and informed people about what's going on. Before they did that, our villages didn't know what was going on because a lot of us were isolated. We had a plane come once a month, and we didn't have radio or TV, so people were just not aware of what was going on.
Mike, Lillie, and, as I remember Illiodor, went to different villages and got people enrolled. Lillie was the first secretary/treasurer, and she kept it up and she got on the board; she was one of the first board members. She was on the board constantly until she got elected, she was always an officer but she got on the board in 1979, and was there for two years until she passed away. She set such good examples for the young people. She worked her heart out to make sure that the young people knew what was going on. She went to schools, talked to students, and spent a lot of time working.
Sharon McConnell: Are there any final comments that you'd like to make?
Alice Petrivelli: I was glad to hear that Superintendent Carol Comeau was going to include Alaskan history. I would like to see ANCSA become a regular part of Alaskan history so the young people know how hard regional corporations and incorporators of AFN and all of them worked, the sacrifices they made so people can enjoy the fruits of their labor through the big dividends of their corporations and appreciate it. I was so happy last night when they mentioned Tyonek. I thought everyone knew about Tyonek, and last night a staff member said, "How come I didn't hear about that? It's surprising that so many things happened, and 30 years later the young people don't know about it. It's sad.