Janie Leask is Haida-Tsimshian and Irish-German and was raised in both Metlakatla and Anchorage. Ms. Leask spent fifteen years with the Alaska Federation of Natives, the last seven years as its President. She is a Trustee for the First Alaskans Foundation and a member of the UAA Board of Advisors. Ms. Leask is President/CEO, First Alaskans Institute and previously worked as Manager of Community Relations for Alyeska Pipeline Service Company. She serves on the boards of the Alaska Humanities Forum and Commonwealth North.
Ronald Spatz: Describe your involvement in the Alaska Native Claims Settlement Act.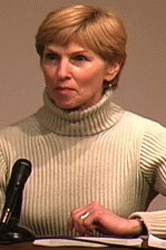 Janie Leask

Janie Leask: I got involved because my father knew the president of the Alaska Federation of Natives and wanted a place for his daughter to go to work at the age of 26. From then on, after working for AFN and climbing the ladder, taking different positions, being a secretary. That was all my background. Then I started taking on policy issues, and ultimately, my friends kept on saying, "Just go, Janie, Just go." I would say, "No, no, no, I haven't done this perfectly yet." Ultimately it became whether or not I really wanted to be president of AFN.
Ronald Spatz: Where did you grow up?
Janie Leask: I grew up in Metlakatla, which is where my father is from. We traveled around, so we lived in the state of Washington for a while. We moved to Anchorage in 1959, and I went through high school here. After high school, I moved around the states for a while and ended up coming back here in 1974.
Ronald Spatz: Once you got to this moment with ANCSA, there was a lot of anticipation. Has it lived up to the promise for you?
Janie Leask: Oh, definitely. My life and being a part of ANCSA have been just an absolute learning experience and also really exhilarating. I ended up leaving AFN, because I got burned out on the politics. But ANCSA, as a piece of legislation and as a tool for Native people, is absolutely wonderful because it provides economic benefits for Native people, but it can also provide opportunities for employment. It's not the answer. It's not a magic wand, but I think it's a really good tool.
Ronald Spatz: What are you excited about 30 years later?
Janie Leask: The power of Alaska Native people. We have not exercised it, because sometimes we can't always agree. I think if the corporations put their financial resources and their best people toward something, an issue, they could weigh in an awful lot. I've heard lots of different presentations from the ANCSA CEO organization about the shear political, economic power these corporations hold, and I think they could really be a force of change in this state.
Ronald Spatz: Has ANCSA changed the values of Alaska Natives?
Janie Leask: For me, personally, probably not. It's nice getting a dividend once a quarter and so economically, probably. For most people, I don't think it's really had that much of an impact. When you talk about people living in the villages, it probably hasn't changed their values that much. I think television, instantaneous gratification, those kinds of life changes we are all experiencing, are changing the values of Alaska Natives more so than ANCSA.
Ronald Spatz: So you would say then that the influx of money and potentially this power has not really changed fundamental core values?
Janie Leask: No, I don't think so. In fact, as John Shively had mentioned about Native dancing, for instance, the cultural piece of Alaska Natives, I think Alaska Natives have grown stronger together, and certainly within culture and within language. I think we're seeing a resurgence of Alaska Native culture and Alaska Native pride.
ANCSA provided people an opportunity to get together. I think it provided pride. It's really interesting when you go up and talk to another Alaska Native. One of the first questions I ask is, "I'm a CIRI shareholder, what are you? Are you a Doyon shareholder or are you a Sealaska shareholder? Where are you from? What's your family?" I would have never thought of doing that before, and maybe it's because of who I am and because I was raised urban. I think ANCSA helps Alaska Natives become stronger as Native people. In turn I think it helps boost people's pride.
Ronald Spatz: What's been your biggest ANCSA disappointment or related disappointment?
Janie Leask: Bucket of crabs. The whole issue of the leadership fighting and bickering amongst each other, the boards of directors, the animosity that can develop when people are competing with things. I was on a board of directors, which I won't name, for a while. People were on that board for too long, and they didn't want to get off to make room for other people. With the legislature or any other institution, I think you have to have term limits so you can bring in fresh ideas.
The whole "bucket of crabs" theory can be used as an example with any group. It's where you have people who are trying to make it out of the bucket, to become something and go somewhere. When a crab gets almost to the top, almost out of the bucket, and the rest of the crabs pull him back.
I think the bickering in the Native community is really unfortunate at all levels.
Ronald Spatz: Currently, a woman is president of AFN, and you were president of AFN. Do women now have a broader base of participation and influence in the Native community?
Janie Leask: I think definitely. Part of me says the reason I became AFN president is because the boys had faith in me. I worked for a long period of time, and knew a lot of the Native leaders, who, at the time, were mostly men. They ran out of men they trusted. So, I think part of it was that.
But Native women have long played leadership roles. If you look around in the non-profit community, and in some of the village corporations, it is not uncommon to see an Alaska Native woman at the head of those organizations. It's not uncommon to see Alaska Native women as the majority of the board members.
One of the things I think is really interesting is if you take a look at the number of scholarships that are given to Alaska Natives to go on to college. By and large, the majority of those Alaska Native students are women. I think it's because Alaska Native women, as women, are more flexible and more adaptable to change than men.
Ronald Spatz: What do you think the next 30 years holds?
Janie Leask: It's not going to be without challenges. We're still going to continue to balance out the corporate versus the tribal. I would love to see the ANCSA corporations use the power they have to make and engineer social changes in this state, which are long overdue. I would really like to see ANCSA corporations not only pay for scholarships for people to go to school, but to proactively develop leadership. I would really like to see that, because otherwise we're really in danger of losing lots of younger people to the world, and not necessarily giving them the ties. It's not to say that the corporations can do it all by themselves, because obviously parents and family have a big role. I'd like to see more emphasis put on the younger generation and passing on knowledge.
Ronald Spatz: What's your favorite ANCSA story?
Janie Leask: We did a lot of crazy things in the 1970s both in Juneau and in Washington, D.C. We did a lot of things we were really proud of doing. The 1971 legislation is certainly one of those pieces in which Native people ultimately came together for the right reasons and did the right thing. It was a monumental effort for them. The whole process of 1971, to me, and the success in the end of signing it into law was a big win-win for all Alaska Natives involved.
Ronald Spatz: So the bucket of crabs, they were no more? Everybody could be free to get out of the bucket?
Janie Leask: Everybody could be free with the knowledge, you know, and to move on. It's not that everybody's going to be happy, but we accomplished something and it was big. The major thing we did was that instead of the federal government saying, "You're stock is now unrestricted," we, as a Native people, determine when and if we want our stock restrictions to come off.