The Van Dommelens try to incorporate learning into their time together. One of the ways they have done this is through their family writing club. "We love it," says Diane. "Lang doesn't love it, but the rest of us do. We each write a topic and put it in a hat, draw it out, and then we usually spend thirty minutes writing on that topic. Then we share the things we've written. And it's kind of fun -- no editing, just all fun."
Diane and Dorn tried having a math club like the writing club, but it didn't work, says Diane.
"Dorn and I found that math isn't incorporated in our lives like writing is. I used to write as a career, before I taught at the Waldorf School, and Dorn writes all the time, but we haven't really involved them in math stuff much."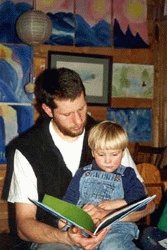 Dorn and Robin Van Dommelen

Still, she has Eve add up their food co-op order, just to show her the practical side of mathematics. And when they built an addition onto their cabin, Dorn had the kids out measuring things.
"It's hard to make math part of our lives, so we tried this math club," says Diane. "Everyone set math problems for the other to do, but it wasn't a big success."
Family Decision-Making
The final balancing challenge for Diane and Dorn comes though learning how to create the best learning environment for all of the children. "Lang makes noises and gets excited, and Eve needs it totally quiet," Diane says. "The balance is to know how much to impose. We're picky, and we like what Waldorf stands for in a big way, and it's hard to provide that when you're an overworked professor and a mom."
Diane and Dorn let their children participate in their own learning as much as possible. Every Sunday night they host a family meeting where they review the week, what people liked, what people didn't like. They also look ahead to the next week, and sometimes review notes that they've taken about how the school week has gone. Diane says, "We have people bring up issues -- I mean they come up all the time, but officially they might come up. We keep 'minutes' of that. We wanted the kids to have a chance to be part of the decision-making process. It's one of the things that has stuck."