My mother was born and raised in a gold mining town called Haycock, Alaska. The town was formed around 1914, and during its early existence, it was quite vibrant. However, during World War II, mining closed down, and the town's population began dwindling.
My grandfather owned the roadhouse at Haycock. Roadhouses were central to community life in old Alaska towns. In the evenings the miners would come and visit to discuss the day's events and politics. The Haycock roadhouse was my mother's home during her grammar school years. (As a small child, after her mother died of tuberculosis, she lived with her Eskimo grandparents on the East Fork of the Koyuk River.)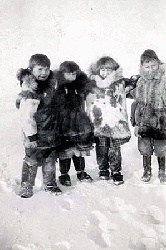 The first grade class of Haycock, Alaska, 1926-7; Willy's mother is second from the left.

When my mom was a teenager, the roadhouse burned down, taking with it many family possessions, including the family photographs. She really had almost nothing except for her memories from that time. As a child, she told me many stories but I had no way to make the memories tangible to me.
Years later I became fascinated with the Internet and my ability to reach out to the world from Alaska. I became a collector of Alaskana and would scan eBay for objects of Alaska history. One day I found a picture postcard from Haycock, Alaska. I bid on it. As it turns out there was a collector in Fairbanks who was bidding on it, too. She sent an e-mail asking, "Why are you bidding on this postcard from this obscure town, Haycock, Alaska?" I replied, "That's where my mom was born; my grandfather had the roadhouse there." At that point she backed off and quit bidding, and I ended up getting the postcard.
As an afterthought she added in her e-mail, "I have some other photographs of Haycock," and she offered to send them for me to look at. What a surprise. I found that the pictures were of my family, including a picture of my mom and her first grade classmates. I was delighted! On the backs of the photos were annotations made by my aunt, Ebba Hamm. The photos were taken by the schoolteacher, Ruth Secor, who taught in Haycock during 1926 and 1927. When Ruth died, the photographs were a part of her estate that ended up with an antiques dealer in Seattle. From there they went to the collector in Fairbanks. When I saw the photos, they brought back many memories for my mom and my aunt. I wanted to keep them, but dutifully mailed them back anyway, with gratitude for having been able to see them.
As luck would have it, a year later on eBay, the collector in Fairbanks and I were both bidding on a moose hide pennant that was made in 1917 for the Fairbanks Masonic Lodge. I ended up out-bidding her and the next morning, she phoned me. She wanted to trade. So I traded the moose hide pennant for the photos she had of my family. I never got a better deal!