At the Providence Family Medical Center, Dr. Ruth German specializes in health care for children. In addition to the expected medical attention she provides, Dr. Ruth German also hands out books. Providence Family Medical Center has recently joined, Reach Out and Read, a national organization, which supplies books to all the young patients ages six months to five years old.

As a youngster, some might remember being rewarded with stickers or lollipops after a good visit to the family doctor. In the here and now at Providence, they hand out books, which are just as prized as sugar and they last longer, too. Dr. German sees the positive reactions: "Kids naturally love books. They generally smile and either open the book to look or put it in their mouth, depending on their age."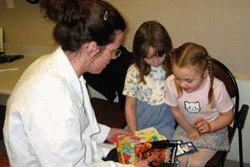 Dr. German offers two patients books to read.

The books are pre-ordered through Reach Out and Read based on the appointments. There is a selection for each age group, and Dr. German tries to give the child some choice in which book goes home, tucked under her arm.
Some pairings are more successful than others, but the books are always welcome. German remembers one patient in particular, a young Israeli girl who had just emigrated to America. With the girl's primary language as Hebrew, she was reluctant to speak in public, never wanting to try out English. "I gave her a book about a mouse and a cookie," recalls Dr. German. "She smiled and said 'cookie.' That was the first English word I heard her say." The little girl sat and flipped through her new book at the office.
"She pointed to the things she knew how to say in English. It was impressive how many English words she knew only having lived in the US for a few months." But the donation of a new book affects more than just the child; the parents are often affected, too. With the little Israeli girl, Dr. German said, "Her mother was very proud to see her talking and sharing, since she rarely would in public."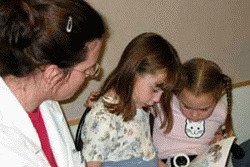 Dr. German reads along with the children.

The books are given to infants, as well. One might think that an infant could not properly appreciate a book, but Dr. German says that the book for the six-month-old age group is the favorite among practitioners.
"Our favorite book is probably a baby board book we have called "Smile". It is wonderful to see the reaction of babies when they see pictures of other babies smiling back at them. They have a great time."
According to the research presented on the Reach Out and Read website, "Children… who are read to during the first years of life are more likely to learn to read on schedule." The ability to read guides a child's success in school, which can also prevent the more disastrous paths an adolescent can choose.
More than just good behavior prizes for a doctor's visit; the books have a lasting effect on the children. Among the many studies done on the effects of the Reach Out and Read program, there is a common finding of increased verbal and language scores in the children who have participated in the program. The studies have also shown that immigrant children whose primary language is not English have a marked improvement in learning to speak and express themselves in English.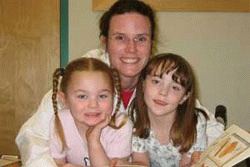 Dr. German with happy patients!

Aside from the academic enhancement and greater ability to communicate, the children also develop a love of books and reading. Studies show that they often rate being read to as their favorite activity, and what's more, the parents also cite it as a favorite activity, too. Books and by extension, literacy, leave an indelible mark. A fact that practitioner Dr. Ruth German knows, "The little girl from Israel is still talking about that cookie book."
You can read more about the Reach Out and Read Program on their Web site.