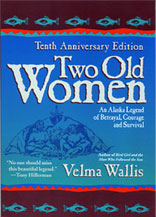 Two Old Women
LitSite Teacher's Guide Project
LitSite Alaska has designed this section for Alaskan educators teaching Velma Wallis's award winning novel Two Old Women. The goal of this site is to provide an array of educational material to supplement instruction of this classic Alaskan tale of culture, adventure, and survival.
All page numbers in the content provided refer to the Tenth Anniversary Edition of Two Old Women.