Alaska Quarterly Review (AQR) kicked off its twentieth anniversary with a reception hosted by the Decker/Morris Gallery in downtown Anchorage. The September event was part of the gallery's 'First Fridays,' a continuing series of monthly arts walks which highlight exhibit openings at galleries around Anchorage.

This month's featured exhibits at the Decker/Morris Gallery included artwork by local artists Richard Murphy and Margret Hugi-Lewis. AQR has a rich history of contributions to Alaska including an Alaska Governor's Award for the Arts, an Alaska Center for the Book Special Recognition Award for Contributions to Literacy in Alaska, a University of Alaska Anchorage Award for Excellence, and an award from the Municipality of Anchorage declaring an 'Alaska Quarterly Review Day' to celebrate and appreciate the contributions of AQR to the cultural heritage of Anchorage.

On the national scene, AQR has received recognition for excellence in virtually every venue. Deemed by The Washington Post Book World as 'one of the nation's best literary magazines' and called 'an impressive publication' by Literary Magazine Review, Alaska Quarterly Review is one of America's premiere literary magazines and a source of powerful, new voices. Works originally from AQR have appeared in Prize Stories: The O. Henry Awards; The Pushcart Prize: Best of the Small Presses; The Beacon Best; The Best American Essays; The Best American Poetry; and The Best American Mystery Stories. Support for AQR has included highly competitive awards from National Endowment for the Arts in the areas of Creation and Presentation, Heritage and Preservation, and Literary Publication.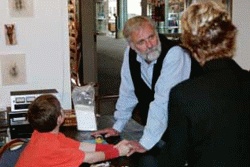 Richard Murphy, with his son, at the gallery reception.

The anniversary celebration of AQR's publication at the University of Alaska Anchorage was also an opportunity to thank and honor two decades of community support. The Summer/Fall 2001 issue of AQR is dedicated to all women who fight, or have fought, metastatic breast cancer. All proceeds from this event benefited the American Cancer Society and the Bonnie Bernholz Memorial Fund. Bonnie Bernholz was a tireless supporter of the arts in Alaska who died of breast cancer in 2000. Her husband, Richard Murphy, Photography Editor for the Anchorage Daily News and a five-time AQR cover artist, presented his new collection documenting Bonnie's battle with cancer.

The series of seven black and white montages include mammogram x-rays, airline ticket stubs, and penciled phrases along with photos Murphy took during the months shortly before and after his wife's death. Also unveiled at the reception was a new exhibit, 'Bodies of Work,' by mixed-media artist Margret Hugi-Lewis. Hugi-Lewis, a native of Switzerland, was the recipient of a 2001 Mayor's Arts Award for her work in Alaskan arts education. In addition to issues of AQR, pamphlets and other informational materials were displayed at the event by several local organizations that offer breast cancer information and support to Alaska women: the American Cancer Society, the Encore Plus Program at the YWCA, Providence Hospital, Alaska Breast Cancer Advocacy Partners, and the IASC/Taoism Center for Wellness. Many organizations had spokespeople available to answer questions about breast cancer awareness and support in the city of Anchorage.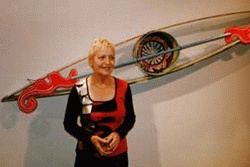 Margret Hugi-Lewis and one of her works.

Mariko Churchill, a representative from the YWCA, works for the Encore Plus Program, which educates women on the early detection of breast and cervical cancers. The Encore Plus Program's provides grants to eligible women who cannot otherwise afford breast or cervical exams and hosts weekly support groups for women living with breast cancer. All woman are eligible to enroll in the Encore Plus Program, which also raises awareness through its yearly phone calls to remind members when it is time for their annual exams: 'A phone call,' says Churchill, 'which could save a life.' Virginia Marquez, a volunteer for the Alaska Breast Cancer Advocacy Partners (ABCAP), a grassroots advocacy group, knows the importance of breast cancer awareness. Her interest lies in legislation at the state and national levels, which affect women suffering from breast cancer. Marquez is part of the team of volunteers who help educate legislators and ABCAP members on current issues being brought to Congress that affect breast cancer legislation.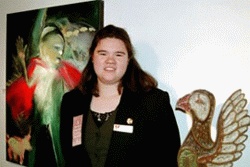 Mariko Churchill

'There's a bill we're concerned with right now,' Marquez says, 'about the Breast and Cervical Cancer Treatment Act, which gives uninsured women free mammograms, but if breast cancer is traced, there is no funding for further treatment.' Marquez alerts ABCAP members to upcoming bills so they can contact local representatives with their concerns. That the gallery was a-buzz throughout the evening as friends and supporters enjoyed the new exhibits is a tribute to the successful collaboration of the arts community in Alaska. AQR founder and editor Ronald Spatz and the gallery's directors, Don Decker and Julie Decker, all advocates for rich literary, visual and cultural experiences, have created unique, up-and-coming spaces in which contemporary artists may showcase their work and help educate Alaska's communities while creating advocacy, awareness and community support for those on the front lines in the battle against breast cancer.