Alaska Quarterly Review, one of America's premiere literary magazines, continued celebrating 20 years of publication with "An Evening of Eclectic Music and Dance" held at the Wilda Marston Theatre at the Z.J. Loussac Library on Nov. 15, 2001. The event was co-hosted by Anchorage Municipal Libraries and featured seven local musical and dance groups.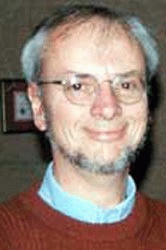 Michael Catoggio

"I've always felt AQR is an incredible community resource," said Librarian Michael Catoggio, "and as a prime player in the Anchorage literary community, we feel proud to co-host this wonderful event. AQR is an Alaskan treasure worth shouting about!"
The performances created a celebratory mood, featuring upbeat and spirit-lifting renditions of Irish folk and old American songs, salsa and classical music. Local support groups in Anchorage, including the YWCA's Encore Plus Program, the Breast Cancer Advocacy Partners (ABCAP) and The American Cancer Society, provided breast cancer awareness literature and answered questions about their programs and involvement with Alaska Quarterly Review's 20th Anniversary Year. Fifty percent of the funds raised in 2001 in Alaska by AQR will go to benefit the American Cancer Society and the current issue of AQR is dedicated to all women who fight, or who have fought, metastatic breast cancer. "AQR has had a lot to be proud of in its 20 years of excellence," said Paul Tinsley, a UAA MFA student, as he waited for the festivities to begin.
Artists from the group "Wings to Fly" kicked off the evening, featuring folk tunes played on fiddle, flute and guitar with such toe-tapping lyrics as "Stay all night, stay a little longer, dance all night, dance a little longer…" This band has been singing and playing together since 1983 with Elsa Aegerter on flute and guitar, Shonti Elder playing fiddle, and Karl Wilhelmi, president of the Anchorage Folk Festival, on bass and guitar. Wings to Fly has performed at the Alaska State Fair and the Anchorage Folk Festival for the past four years and particularly enjoys interesting contemporary songs with strong harmonies and positive messages. The group's motto has been "mush without guilt."
Shonti Elder also played fiddle that evening in the traditional acoustic trio "Jubilee," which also includes Denise Martin on hammered dulcimer and concertina, and Jim Kerr on guitar. This group has released one album, "A Welcome Sound," and is currently working on its second album, which will feature music rooted in Celtic, American and Canadian tunes.
Fiddler Amanda Kerr, accompanied by her father on guitar, stole the spotlight with a holographic bow that cast a rainbow light throughout the theatre as she played. Amanda is the current Alaska State Fair Fiddle Champion and also placed 18th in the National Oldtime Fiddle contest's junior division in Weiser, Idaho, last June. She has also acted as concertmaster for the Anchorage Youth Symphony's Chamber Orchestra, plays in the band "The Emeralds," and is a member of the Irish Dance Academy of Alaska's advanced dance group.
Katya Kuznetsova and Isidoro Martinez, two dancers who form the "Ritmovida Dance Partnership," lit up the stage with a steamy salsa performance. Katya is from Magadan, Russia, and began dancing when she was eight years old. She co-directs the UAA Dance Ensemble and teaches jazz dance at the Alaska Dance Theatre and Latin dance at Club Soraya.
Her dance partner, Isidoro, is an Alaska-born Dominican who grew up with dance in his home and considers dance to be a part of his cultural roots and passion. He trained in modern, ballet and jazz dance with the Alaska Dance Theatre and East High Contempo Dance Program. The two have been dancing together since 1999.
Ritmovida dancers Katya Kuznetsova and Isidoro Martinez.

The Chameleon Ensemble, followed by flautist Catherine T. Moller, performed the evening's classical selections. The Chameleon Ensemble features Joe Gianotti, on violin and viola; Karyn Grove Bruce, on violin and viola; and Marian Mitchell on cello. All three members were raised in Anchorage and began playing through the Anchorage School District's music program. Their name ("Chameleon") refers to a unique attribute of the ensemble: two of the members trade off playing violin and viola. Catherine T. Moller is a UAA Creative Writing and Literary Arts poetry student from Wisconsin and has played classical flute for many years.
The evening ended with a set by "The Rude Mechanicals," the always evolving, mostly acoustic quartet, which was formed in 1997. Its members currently include Jeff Silverman, Max Silverman, Robert Clark and Karl Wilhelmi. The band plays mostly original and often nostalgic music influenced by swing, jazz, folk, blues, and maybe even pop.
The Program
Alaska Quarterly Review, one of America's premiere literary magazines, and winner of a 1996 Alaska Governor's Award for the Arts, celebrates its 20th year of publication and is proud to announce a series of events to honor and thank the community for its support.
As part of AQR's yearlong efforts to promote best cancer awareness, we are hosting this eclectic evening of music and dance performances in conjunction with Anchorage Municipal Libraries. The event features local artists and is being held to not honor not only the American Cancer Society's efforts, but also the work of other local programs that offer education and support to women suffering from breast cancer.
Many thanks to the following supporters of this evening's events:
Anchorage Municipal Libraries
The American Cancer Society
YWCA's Encore Plus Program
Alaska Breast Cancer Advocacy Partners (ABCAP)
Providence Hospital
IASC/Taoism Center for Wellness--Healing From Within Workshop
The Performers


'Wings to Fly,' left to right: Shonti Elder, Elsa Aergerter, and Karl Wilhelmi.

Fiddler Amanda Kerr

Ritmovida dancers Katya Kuznetsova and Isidoro Martinez.

Breast Cancer Awareness Advocacy Partners members Julie Warner, Virginia Marquez, and Jenni Williamson.

Jubilee, left to right, Shonti Elder, Denise Martin, and Jim Kerr.
Click here for all 9 photos in this gallery.