The Last Frontier Edward Albee Theatre Conference
"The wildest, most interesting playwright's conference in existence," says one participant. "As far off Broadway as you can get." These voices belong to only a few of the many writers, directors, actors, and theatre lovers who have come to celebrate American theatre at the Prince William Sound Community College Theatre Conference held each summer in Valdez, Alaska.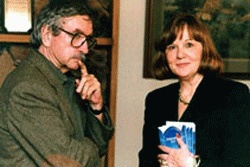 Edward Albee and JoAnn McDowell

The conference is the brainchild of college President JoAnn McDowell. Co-founded in 1993 by Pulitzer-Prize winning author Edward Albee (shown at the 1993 conference with JoAnn McDowell at right) and dramatist Marshall Mason (who says he came the first year mostly "out of curiosity"), the conference began as a venue for honoring important established playwrights and authors. Very quickly it expanded to include the development of new writers and the presentation of new plays as well. The conference has developed a national following. Articles about it have appeared in numerous publications including The New York Times.
The 1999 conference celebrated the 40th anniversary of the "off-Broadway" or "new American theatre" movement by honoring Jack Gelber, whose 1959 play The Connection shattered theatrical conventions and helped start a revolution in American theatre. Arriving by floatplane, Edward Albee himself was on hand to see the staging of his 1961 play The American Dream and to present Gelber with the annual Playwright Award that bears Albee's name. In previous years, the festival has honored such legendary figures as August Wilson, Arthur Miller, Terrance McNally, Lanford Wilson, and Robert Anderson.
Major contributors to the conference include Alyeska Pipeline Services, BP Amoco, Arco, and the Yukon Pacific Corporation. Prince William Sound Community College and the City of Valdez provide the facilities and all-volunteer staff.
"I knew it was going to be spectacular," said 1998 Directing Award-winner Mark Brokaw. "But it was even more so. You're so lucky to live here."