In March 2001, the city of Anchorage and its surrounding communities were proud to host the 2001 World Winter Games of the Special Olympics. Over 2,400 athletes from 69 different countries came to Alaska to compete for nearly 1,900 medals; they were greeted by capacity crowds and aided by more than 6,000 local volunteers.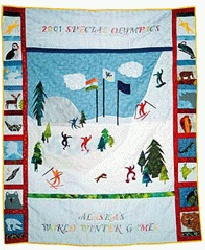 '2001 Special Olympics Quilt' by Kate Dunylak's 6th grade class

In a special partnership, Anchorage-area schools teamed with the University of Alaska Anchorage and the Special Olympics to capitalize on the learning opportunities presented by the Games. About 50 local schools chose visiting teams to host. A special curriculum helped teachers connect the Games with lessons in cultural and human diversity.
The University of Alaska Anchorage designed a special course in Writing and Empathy to help students use the tools of creative writing to reach a deeper understanding of their own experiences and of others. The course, taught by Andromeda Romano-Lax, was offered free to a select group of high school students who learned to use the techniques of observation, reporting, detail selection, narrative, dialogue, and setting to pay thoughtful attention and to share their discoveries.
Together, these activities encouraged the young people of Anchorage to experience the Special Olympics fully, to appreciate the challenges each person must face on the road to achievement, and to express their own creativity as they learned to look at the world through Olympian eyes.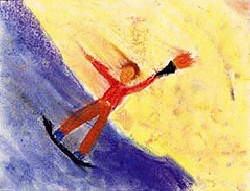 'Snowboarding Torch' by Aaron Wiggins

We all Speak with the Same Smile

A booklet entitled "We all Speak with the Same Smile" was created to showcase a sampling of the poetry, art, and prose Anchorage's students created in response to the 2001 World Winter Games. We are proud to offer its contents here on LitSite Alaska.