Creating a Community of Writers Across Alaska
Writers in Alaska are just about as far from New York's publishing scene as a writer can get. Much of the time, they feel just as isolated from each other. But every spring they gather for the annual Writing Rendezvous at the University of Alaska Anchorage. They come together to get energized The result is a growing community of writers across this vast state who feel just a little less alone in the world of writing.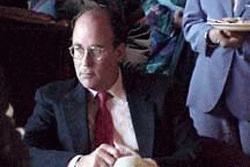 Tracy Kidder

Writing Rendezvous, now co-sponsored by the Alaska Center for the Book and the UAA Dept. of Creative Writing and Literary Arts, has grown to the state's largest writing conference and one that rivals any such conference in the country, according to publisher Kent Sturgis. First offered in 1992, the conference has been held annually since 1994. The partnership with UAA has enabled the conference to tie-in to presentations by such acclaimed authors as Michael Ondaatje, author of The English Patient, Francine Prose, Sherman Alexie,and Pulitzer Prize winners Richard Ford and Tracy Kidder (shown at the conference in the photo at the right).
In addition to the dynamic authors UAA hosts, Writing Rendezvous brings national publishing professionals to Alaska. Editors from Harper Collins, Simon and Schuster, and Henry Holt have offered tips to writers on trends in national publishing and advice on how to approach and work with editors. Other headliners included Judith Applebaum, author of How to Get Happily Published who has made it her business to help authors understand the publishing process.
Many of Alaska's best writers participate as panelists on topics as far ranging as romance novels to nature writing, from first-person essays to the value of journaling to spark creativity. Poets, mystery writers, memoirists, historians and humor columnists have all shared their particular insights and experiences. Alaskan Megan Rust inspired writers at the 1998 conference with her story of how an accident that terminated her flying career was not an end but a beginning. She combined her hospital experiences with her aviation knowledge and created Taylor Morgan, a pilot star of Dead Stick, her first published mystery novel.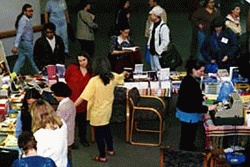 Rendezvous Participants

"It's nice just to talk to other people and get motivated," wrote one writer who lives near Denali National Park and who has attended several conferences despite the five-hour drive and struggles with finding a babysitter. Whether working from a cabin with no running water on a computer run by solar-powered batteries or in the comfort of the family home after the kids have gone to bed, writers who attend Writing Rendezvous get to put aside the pressures of their daily life and talk about the craft and business of writing. The annual Writing Rendezvous gives these writers a chance to get out from behind their computer screens and be part of the larger story of writing in Alaska—sharing their own experiences while learning from national and local professionals.
Writing Rendezvous is just one program created by The Alaska Center for the Book. The Alaska Center for the Book was founded to celebrate the richness and diversity of language and to stimulate interest in literacy through the spoken and written word. In 1991 the Center became an affiliate of the Library of Congress Center for the Book which now has more than 30 such centers across the nation. Unlike most affiliates, the Alaska Center for the Book is an all-volunteer organization that is funded mostly by member contributions and small private grants and donations.