You might not expect to receive a book and instruction on teaching your child to read when you take your youngster for a medical checkup. But that's what you'll get from the Anchorage Neighborhood Health Center when your child comes in for a "well-child" examination.

The Anchorage Neighborhood Health Center wants children to get a great start in life. Thus, the Center has joined the national "Reach Out and Read" project. The idea behind the project is that literacy is as important to a child's health as immunizations and good nutrition.

Much has been said lately about the benefits children gain from being read to at a young age, as well as the important brain development that occurs in a child's first three years. Studies have shown that parents are four to eight times more likely to read aloud to their children when given a book and directed by a doctor to do so. Also, a correlation has been found between illiteracy and the type of kids who show up in emergency rooms.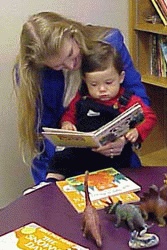 Jennifer DuFord, volunteer coordinator, and a young reader.

Under this program, the center gives a free, new book to each child between the ages of 6 months - 5 years who comes in for a well child exam. Health care providers instruct parents on how to read: pointing out pictures, asking questions about the story, etc. And, volunteers reading to kids in the waiting room model behavior for parents, some of whom were not read to as youngsters. Books are also available in the waiting room for any child of any age to take, as many as he/she pleases.
The program takes place at both the Fairview Center (1217 E. 10th Avenue) and the Family Practice Center (3456 LaTouche). Volunteers -- who are scheduled into one-hour shifts -- are needed Monday through Friday from 8 a.m. to 5 p.m. at both sites.
A VISTA volunteer writes of her experience with Reach Out and Read: Parents are very enthusiastic about the program. Their child goes home from their medical checkup with one age-appropriate book. The parents say, "This is much better than a lollipop or a sticker!" Parents also appreciate the volunteers reading in the waiting area, but not as much as the children themselves. Sometimes the kids want to hear a story over and over until they have to leave.
The program enjoys broad-range community support. Regular reading volunteers include corporate leaders, school board members, retired teachers, students, and stay-at-home mothers. Governor Tony Knowles and 40 other prominent business/community leaders attended the program's kickoff in August 1998.
To volunteer your time as a reader or if you have any other questions, please call Jennifer DuFord at 258-6532.