She cut a long rectangle from plain white paper, punched a hole in one end, threaded a green piece of yarn through the hole, and added a spidery tassel. Along the length of the bookmark, in aged arthritic jerks, she inked, "Those who do not read have no advantage over those who can't."

It has been 20 years since Grandmother sent the bookmark to me in a 35-cent paperback; a time when I read books only occasionally for entertainment and the authors were little more than a name on the cover, which I seldom remembered.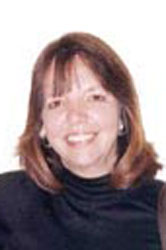 Nancy Barnes

My grandmother lived her message, reading daily until the clouds of cataracts became too dense. She knew that books documented life -- its mysteries, its dreams, its facts, its ideas -- and that each one was not a product authored by a faceless abstract being, but was the manifestation of an individual's heart and mind not unlike her own.
Through her influence, I have learned to use books to take charge of my own education. Reading has become a way to help fill in the blanks around me, to compare my thoughts and ideas with others, and to mark my place in life.
Books hold the world between their covers, and it is there for the taking.