Most people know Sandy Harper as the owner of Cyrano's Bookstore and Off Center Playhouse in Downtown Anchorage. But many members of Alaska's literary community also know her as the godmother of the Alaska Center for the Book. It was through her vision and devotion that Alaska became the 24th affiliate state of the National Library of Congress Center for the Book.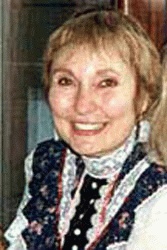 Sandy Harper

If you talk to Harper about the Center, you are bound to see her eyes light up, like any godmother who loves to talk about how her godchild is growing and accomplishing wondrous things.
Harper's college degree is in human development. "That means I am interested in human potential and the possibilities in each and every life," she says. "And one of the best and most important ways to develop that potential, is to make sure every person has access to the richness that reading and writing can bring to life."
In 1987 Harper and her husband moved to Anchorage to embrace a wonderful, unexpected opportunity—to run Cyrano's Bookstore. Being new to Alaska, Harper says she wanted to find a way to connect with people here who "shared a love of books" so she formed the group Partners in Literacy, a coalition of booksellers, librarians, educators, parents, writers and publishers.
"All people who wanted to generate the pleasures of reading and writing and also the oral tradition that is so important in Alaska," Harper says. "We wanted to work in participation rather than competition."
Then Harper happened to read about a national organization, the Library of Congress Center for the Book, whose state affiliates were working on the same types of projects and had the same goals, so they decided to apply to form the Alaska Center for the Book.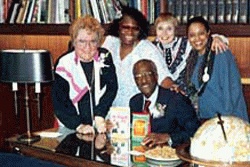 Sandy Harper with an author

Harper and other members of Partners in Literacy wrote a proposal and poet John Haines wrote the cover letter. The idea caught on and more than 150 community leaders and civic organizations from around the state sent in their endorsement for the project. The Anchorage Daily News full-page ad for the Center's grand opening includes a long list of names—people influential in the arts, in government, and in education—people who signed their names in support of the Center. And, as a birthday gift, people at the Anchorage Daily News designed the logo for the Center.
"We were hot, we were on a roll," Harper recalls. "You know how it is when something's new and everyone's excited? When it is right, somehow magic happens."
She recalls with delight the Center's Inauguration Day, the day that John Cole, director of the National Library of Congress Center for the Book, arrived in Anchorage to much fanfare. "The Alaska Children's Choir sang to greet him, and he went on a flight-seeing tour around the city. He still remembers Alaska very fondly."
Harper has since "passed the torch" of leadership on to others at the Center, but she continues her passionate work in literature and the arts community in Anchorage. "I am a child of the sixties, " Harper says, spreading her arms out so that the sleeves of her embroidered gauze, seventies style smock look almost like wings. "I come from a time when we understood that synergy was a powerful thing."
And because of Harper's work, the many people working together to promote literacy in Alaska understand that power too.