Buckland Alaska, just southeast of Kotzebue, is far removed from the big city of Anchorage. Further still is the distance one must travel when bridging the road between the printed word and Braille. As a first grader in the Buckland Elementary School, Jeremiah is traveling this road, and is now reading with "feeling."
Even before preschool, Jeremiah had a strong interest in books, the printed word, and Braille. He would listen to stories and ask his family to read to him time and time again. This repetition led to a strong memorization of stories and books. He began retelling stories and pretending to read aloud to his parents, grandparents and uncles.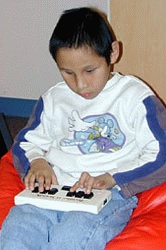 Jeremiah with Braille n Speak

Jeremiah's early exposure to books, storytelling and pretend reading provided him with the basic ingredients necessary to conceptualize reading and writing. His family was given children's books in a Braille format, and formal Braille instruction when he reached school age opened wider this window for Jeremiah's expanding literary horizon. A device called the Braille'n Speak was provided to Jeremiah early in his kindergarten program. This device allowed him to listen to his work before his tactile reading skills had increased to a level of independence. The Braille'n Speak allows him to hear the letters, words and sentences he is Brailling at the same time he is working. Most importantly, the BNS allowed Jeremiah to explore and experiment in the writing process. As he experimented with various keystroke combinations, he quickly learned the parameters and meaning of the Braille cell and related contractions formed to represent letters and words.
With Braille at his fingertips, he was now in-touch with the printed word. Jeremiah was now able to explore, compare, and conceptualize literacy in a concrete form.
The combination of Braille reading and writing, along with books on tape, stories read to him, recitation of memorized stories and the use of the Braille'n Speak helped to pave Jeremiah's road to reading. He is now feeling his way to read and is definitely "reading with feeling."
Editor's note: Jeremiah is one of the many children served by the Special Education Service Agency. SESA is a public agency, which provides assistance to Alaskan school districts and early intervention programs serving students with low incidence disabilities. This assistance is given directly to school personnel, parents and related service providers who are located primarily in rural and remote parts of Alaska. More information about SESA can be found at their Web site.