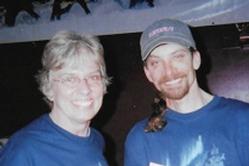 Dianne Toebe (author) with Lance Mackey in 2007 at the Iditarod Banquet in Nome

Just about everyone in Alaska has heard of the name Lance Mackey, the iconic dog musher who is the "winningest" musher ever. He has won four consecutive Iditarod races and four consecutive Yukon Quest races, including two of those as back to back Quest and Iditarod wins. Most Alaskans also know the hardships in life that Mackey has endured and the obstacles from health problems related to past cancer and treatment. What isn't as well known is his compassion and caring for other people, especially those experiencing health issues, such as cancer.
About a year after his fourth Iditarod win, a special friend of mine and a long-time fan of Lance Mackey was seriously ill with lung cancer, having endured radiation and chemotherapy in the prior year. She was the one whose enthusiasm in 2007 got me to follow that Iditarod closely as she reported to me early in the race that Dick Mackey's son was the musher to watch as he was destined to win the 2007 race. Now, I knew who Dick Mackey was, the winner of the 1978 Iditarod, whose lead dog crossed the finish line in Nome one second before Rick Swenson's lead dog, although Rick Swenson himself crossed the finish line before Dick Mackey did. I had read the book "One Second to Glory." I knew that Dick Mackey had been instrumental in cutting out the Iditarod trail from Anchorage to Nome along with Joe Redington. But my friend, Chris, she was truly a believer in Lance and his team and was certain that he was the musher to watch, so I did. I got a daily report from Chris and I spent evenings at her house, while her husband made us dinner, and we were glued to TV and news updates and kept calling the Iditarod 248-MUSH hotline for updates.
And then Lance won his first 1,000-mile Iditarod race and he made history by winning this Iditarod race with the same dog team that had just weeks before won the 1,000-mile Yukon Quest race from Whitehorse, Canada to Fairbanks, Alaska. Each of his dogs was pictured on the front page of the Anchorage Daily News. Many said Lance Mackey's win was a 'fluke,' but Lance continued to win and win all types of races all over the state. Chris continued being a devoted fan and I was now hooked, too. We cheered Lance on from afar and even met him at Iditarod events, getting autographs while basking in his warm personality towards every fan at every event.
Then, Chris in 2010 quite suddenly was diagnosed with lung cancer and her life was turned upside down. Instead of chasing dog races, she became consumed with doctors' appointments, medical tests, chemo, and radiation therapy. There was hope and remission, but eventually she had to face her physical body becoming weaker and weaker and the treatment no longer helping her. However, she never lost interest in Lance's career or his success and we spent much time talking about his race moves, his dogs, and his championships. Chris's husband and I used to tease her that Lance was the top musher while she was his top fan.
I felt helpless and sad, wishing I could make Chris whole again, wishing we could keep cheering Lance on, but it wasn't to be. Chris' treatments were stopped, and she knew that life was ebbing from her body fast. Chris became concerned with comfort care and was in hospice. Then, I started to wonder if a celebrity like Lance Mackey might just possibly make a phone call to Chris. It wouldn't have to be long, just touch base with her. Wouldn't that be a beautiful thing for Chris. I knew that that would mean the world to her.
I timidly set about figuring how I could make this connection, without letting Chris know and not promising her anything. I knew that Lance was training hard with his team at the time. How would I approach this? Finally, I called Lance's wife and found out that this was possible but with complex logistics as Lance was gone on multi day training runs, plus training himself and packing his food drops for the upcoming Iditarod race. Chris was also not physically able to participate in a phone call just at any time of the day either. She was taking pain meds and suffering physical discomfort.
However, the coordination happened and one day Lance's wife called me and said that Lance was due to return from an overnight training run in subzero temperatures. He would need to help his handlers get the dogs fed and bedded down then would come into the house and be ready to call Chris! And Chris was ready. We told her that Lance was going to call her. She was in disbelief and I cannot possibly describe her expressions of pleasure and elation as she waited for the phone to ring. Would Lance really take time for this call? Would this really happen? Would Lance really know what this call would mean to a woman dying from cancer? Could there be anyone else in the world who could make Chris feel this way?
And then the phone rang, and it was Lance, calling Chris, one of his thousands of fans worldwide, whom he probably couldn't recall at least without a picture from an event. But no time for that and it didn't matter. Just so that Lance touched base with her. I didn't know if he was comfortable talking with people who were dying. What would he say? Chris' husband and I left the room, so I don't know exactly what Lance and Chris talked about, but I know that the call lasted over an hour and I know how Chris felt after the call. She was living a dream. Lance Mackey had called her!
Lance had given her his time and his undivided interest. He had provided comfort that no one else could. Chris told us that they talked about having cancer, about his experience having cancer diagnosed after running his first Iditarod, about all the people he has met since then who have cancer and he shared their experiences and his. He listened to Chris' experiences to her personal journey and provided comfort and empathy. He also gave her life affirmation as he reviewed her life with her, as she reviewed his life with him. They connected. Lance cared and could relate to Chris. He was not afraid to talk and to listen to her as she was dying of cancer. He comforted Chris. I will never forget this gift that Lance gave to Chris.
Chris' husband summed up that evening and phone call with: "The greatest musher in the world who could comfort his greatest fan as she was leaving this world." What a gift Lance has.