Paradise Alaska: Yvonne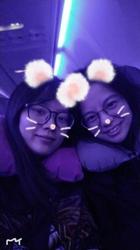 Yvonne and Mila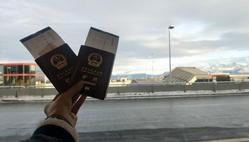 Tickets!

Although fond of travel, I had never thought of going to America because of the long distance and high cost. This winter, we really wanted to visit our American friend Michael, so Mila and I booked two American flight tickets without any hesitation and an American trip came unexpectedly.
These two tickets took us from hot southern China to the cold northern United States. When we arrived in Alaska, we found out that the winter in the northern United States was more comfortable than the winter in southern China because of the indoor heating and beautiful outdoor views. Heating warms you up, while a fantastic view is unforgettable. Enjoying the glorious sunset silently in a warm house everyday while we became part of the view is a feeling we never had before.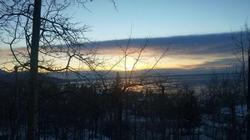 Beautiful scenery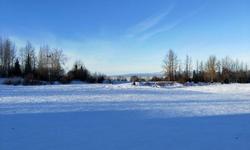 Sparsely populated

We have been living in the city for a long time, where we face high-rise buildings, heavy traffic and living a fast pace, but when we arrived in Alaska, everything slowed down. There is beautiful scenery and houses instead of high-rise buildings. It is sparsely populated, instead of heavily trafficked. In January, daytime in Alaskan only last about six hours, and the late sunrise made us lazy. I believed it was also attributed to the "spoiling" from our American parents, Michael and York. They treated us with lots of delicacies, showed us the beautiful scenery, drove us to the supermarkets for shopping, introduced new friends to us, and taught and shared with us a lot of interesting things. Everything was new and funny for us. There wasn't any travel fatigue, only the warmth of home and laughter.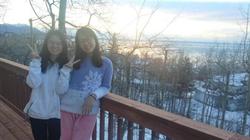 In Alaska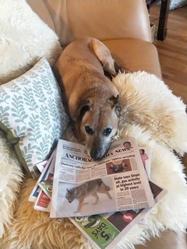 Alaskan dog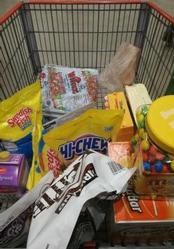 Lots of desserts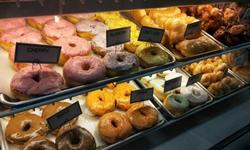 Donuts

We spent nearly half a month in Alaska, where the environment and pace of life made both our mind and bodies peaceful and healthy. I felt like my occasional rhinitis problem was gone because of the fresh air in Alaska. Daily picturesque scenery, and interesting people and places made us energetic and relaxed every day.

In china we control the intake of dessert because it makes us fat, but in Alaska we ate a lot of desserts, like ice cream, cakes and donuts. It is said that desserts contain a lot of energy and make people feel comfortable and intoxicated. Therefore, we felt happy and laughed a lot while we were in Alaska, especially when we were eating sweets and watching movies.

The journey was so pleasant that it was like a dream. We miss the days in Alaska and the people in Alaska. Thanks for the American trip which fostered a clearer mind and a healthier body.


Yvonne, an English language teacher at a private school in Guangzhou, China came to Alaska for her first trip to USA.

Fantasy in Alaska: Mila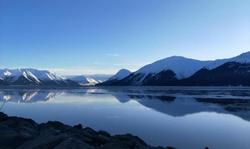 Living in a fairy tale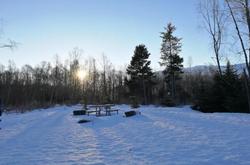 Peaceful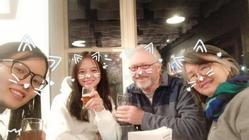 With beloved friends

Time flies when we're having fun, and our two week trip in Alaska has come to an end. There is only one to-do list during this journey, that is, to visit our beloved friends Michael and York. However, thanks for their warm welcome and great care, we have received lots of surprises. Alaska is a wonderland with beautiful scenery and magical weather, which helps to improve both our mental and physical health greatly.

First of all, my strongest impression of Alaska should be the incredibly beautiful scenery. It is breathtakingly beautiful, just like what I said to Michael and York, "Every morning when I woke up and opened my eyes, I thought I was living in a fairy tale". Every time when we drove out to enjoy the view, I felt my chest swell with fresh air and my mind became clear without any noise from the bustling urban life. Facing the vast and snow-covered mountains and waters, I just felt that any kind of trouble was not a big deal, and there is no reason to be unhappy!

Besides, the lifestyle in Alaska is also very peaceful. The pace of life here is slower and more relaxing compared with that of Shenzhen (the city I live in China). Being influenced by them, I gradually threw all my pressure and worries away and completely relaxed myself till the last day. People here buy almost everything in the physical stores, which I haven't experienced in China for a long time since we usually go shopping online. We went shopping in supermarkets a lot, which was quite relaxing and enjoyable. Indeed, physical stores can never be totally replaced, it's good to touch and check the goods before we buy. What's more, my headache problem which had troubled me for years was gone during these days! I felt like I was energetic and relaxed every day.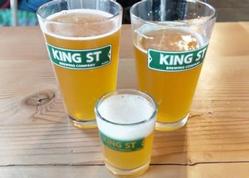 Alaskan beer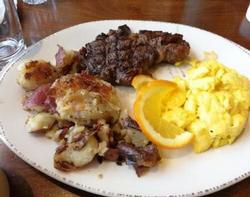 Alaskan food

What's more, the food and drinks here are also quite commendable. Dear Michael and York were so sweet and warm-hearted to let us taste everything from dessert to drinks. It is said that sweets makes one happy, and after this vacation I have to say that it is a true saying. Furthermore, I have learnt some of the beer culture here, which impresses me a lot since beer in China is so dull and monotonous. We even tried several kinds of liqueur sometimes, and that was really cheerful and cool! Moderate amount of alcohol did help to warm my body as well as aid my sleep.

The last thing I want to mention is that America is such a big country with few people! Many people own a house and we could drive freely on the street. Unlike the tension and depression living in crowded Shenzhen (which we jokingly refer to as "people mountain people sea"). I felt comfortable and joyful here, which injected more energy into my body. Perhaps because there are fewer people in Alaska, people here have enough time to greet each other with shiny smiles, and that impresses me a lot.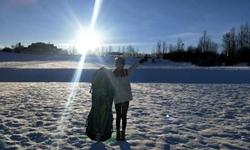 Visit again and again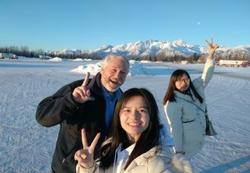 Peaceful but full of vitality

I really enjoyed myself during this journey, and most of the time my heart was peaceful but full of vitality. The most amazing thing is that since I came back to China from Alaska, I have lived a regular life and worked efficiently every day. I'm not sure whether it's because of my good mood or if my body is adjusted somehow by my trip to Alaska, but I'm really excited about that since I have had insomnia for years. Alaska is a place I would like to visit again and again, and of course I'm no exception. Probably I will come back in the near future!
Mila, a post graduate student of English Literature at Shenzhen University. Mila was an English teacher at a private school in Guangzhou where she met her American "papa", Mike.