When Sophie Prosser was a 14-year-old girl growing up in Ninilchik, she wanted an education so badly she went on a hunger strike to prove to her parents just how serious she was. Today, at 76, Prosser looks back on the many successes of her life. She and her beloved husband, Bill, shared 55 years together before he passed away. Together they raised two sons, Robert A. Prosser and William C. Prosser, Chairman of the CIRI Board of Directors. She said she welcomed sharing her stories because they might offer encouragement to young people today. The following narrative was developed through interviews with CIRI Historian Alexandra J. McClanahan.
* * *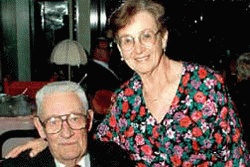 Bill and Sophie Prosser

I was the fourth child and the first daughter in a family of 12. My mother was Alexandria. Her maiden name was Crawford. My dad was Charles Cooper. They were both Russian and Alaska Natives.

I spoke Russian, which was prevalent in all of the village and at home. But when we went to grade school, we had to learn English.

The rule at the school was you were not supposed to speak Russian at all, even on the school grounds. If you did use Russian, you were punished for that. And my mouth was washed out many, many times with a soap that they called Felsnaptha, which was very, very strong. I remember having blisters (laughs) because I could never keep my mouth shut. I was always jabbering.

For me, the punishment itself wasn't what bothered me. It was the fact that it made me ashamed and embarrassed that I spoke Russian. Speaking my language seemed so natural, and yet it was something that made me feel so ashamed. I was married several years before I even admitted it to my husband. Now that's sad. . .Today, I am finally proud of my language, but I am sorry that for so long the language I spoke was the source of so much shame.

I started school when I was seven years old. . .Then I skipped sixth grade because I was a good student. All my life, I loved to read. I loved school. . .As a young teenager, I always knew I would never be happy with just that basic education we had in the village. I knew there was more education to be had. . .When I wanted to go to high school, my dad didn't say much, but my mother didn't want me to go. Today, I understand why. She was afraid to have her daughter go off by herself to Anchorage, which seemed like such a big city to us.

At the time, I didn't understand. I was so upset. But you didn't talk back. You never argued. What could I do? How could I rebel? This sounds terrible, but I went upstairs in our house to "my" room. I didn't have a room of my own. My sisters and I shared one bedroom, and I stayed in our room for three days. I guess you would call it a hunger strike, but my sisters brought me food. I know today that my mother gave my sisters some food to take to me. But I didn't know it then.

That was my way of rebelling. And I knew I wasn't going to come down until my mother said I could go. Finally, she came up to talk to me. I guess she knew I was really serious. I can almost hear my mother's words right now. She said to me, "I don't know why you want to get away. Why do you want to go to school? You can have a good life here."

At that time -- I was 14 -- she said, "You could marry anybody here. You could have a good life. Why do you want to go away?"

And I remember my response. I said: "I don't want to be like you. I don't want to have my life like yours because you have -- we have -- all these kids. And you have to work all the time.

"I don't want that. I want something better."

Anyway, eventually I think Dad kind of encouraged her, too. My mother had a sister, who was working in Anchorage, and I think that probably was the deciding point in my favor.

I didn't have a place to stay. I didn't really know what I was going to do. I just knew I wanted to go. I did go to church shortly thereafter. There was a kind of a bulletin board, and I wrote my name on a piece of paper, and I said I wanted a place to stay and I would babysit or whatever for my room and board. I think within a day or two, I was contacted by a family. They hired me, and I shared a room with one of their children, a very small room. That was my start.

Before that school year was over, I realized the difference in my social standing. I remember envying my friends' wardrobes. They had their own homes, and they were always having friends over and stuff, which I could not do. This was when I first started realizing how different my life was and had been before then.

My parents didn't have money. . .I didn't even have money for a five-cent pencil many times. The people I stayed with provided my board and room, not extra money or anything like that. They never paid me any cash. So I had to figure out my own way to get by. Most everything was supplied in school, but still we had to buy our pencils and paper. My aunt would give me a quarter here and there.

People who read this might get the wrong impression. They might say, "Oh, they were so poor." We were – in monetary ways. But it was a good life. We had all the important things. We had the things that really mattered: a sense of security. Somehow – inside – we knew we were loved. And we loved each other. We belonged.

When I went to high school, I know I did not have the self-esteem I should have. But, as the years went by, as I realized what life is about and being married and having a devoted husband and all that, it comes together. Along with your self-esteem comes your pride in what you've done and where you're from. As I think about my life now, I would not change a single thing of how I was raised or what I've done. My pride in being a Russian-Native, my pride in the corporation, my pride in my parents and who they were is very real. I am proud of myself, my two sons, my two daughters-in-law and my six grandchildren. I was also very proud and glad I married my husband, Bill, who passed away recently after 55 years of marriage. Was it all worth it? Was I right in seeking a better life for myself those many years ago as a young girl? Absolutely. I'd do it all again in a heartbeat.

Pictured in the photograph are Sophie Prosser and her late husband, Bill.