September 9, 2001, marked the eightieth anniversary of an ill-fated five-member expedition to a far-flung tiny uninhabited island that forever made life difficult for the sole survivor.
Ada Blackjack Johnson, who was born in Solomon on May 10, 1898, was just twenty-three years old when she was hired as a seamstress to accompany four other members of an expedition charged with colonizing Russia's Wrangel Island, 85 miles off the northeast coast of Siberia.
Left a widow in Nome when her husband drowned, Ada did the best she could to care for her son Bennett who suffered from tuberculosis and later spinal meningitis. Two other babies born to the couple had died. She undertook the risky prospect of going to a place that was virtually unknown at the time because she desperately wanted to earn enough money to get medical care for her son.
The original plan had been to hire Eskimo families, with the women making boots and clothing and the men doing the hunting.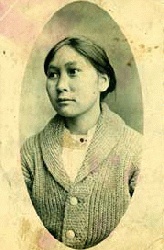 Ada Blackjack Johnson

". . .the Wrangel party tried to engage at Nome some Eskimo families, and did so actually. But when the time came to sail there arrived at the boat landing only the Eskimo woman, Ada Blackjack, who had been expecting to go along as a member of one of the families engaged. When she found that the others had broken their bargain she also wanted to withdraw, but was prevailed upon to go by the assurance that the Silver Wave would call in at some Eskimo settlement between Nome and Wrangel to hire families in which Ada could then take her place. . .With that program they sailed September 9th, 1921," Vilhjalmur Stefansson wrote in his 1925 book about the expedition, The Adventure of Wrangel Island.

Stefansson had sent the party to Wrangel Island with the hope that Canada or the United States would be able to claim control of the island, which had always been a part of Russia. The island encompasses an area of about 2,000 square miles. It's 80 miles long and 18 to 30 miles wide, which makes it about half the size of Puerto Rico.

Now a Russian wildlife refuge, in the early part of the century the island was mysterious because it is surrounded almost constantly by ice fields and often blanketed in dense fog. Melody Webb of the University of Alaska-Fairbanks wrote a paper describing the island and its history in 1981, and it is featured in Stefansson's book as well as other books written about a previous expedition to the island sponsored by Stefansson that was equally disastrous.

The team Stefansson sent in 1921 included Blackjack and three other Americans as well as a Canadian. Stefansson's secret hope was that including a Canadian would force the Canadian government into accepting its "responsibility" for claiming the island. Expedition members included Frederick Mauer and E. Lorne Knight, both 28-year-old Americans, American Milton Galle, 20, and Canadian Allan R. Crawford, also 20, and the man Stefansson designated as the group's leader.

The Silver Wave arrived at Wrangel Island on September 16. In a dictated statement, printed in Stefansson's book, Blackjack wrote: "When we got to Wrangel Island, the land looked very large to me, but they said that it was only a small island. I thought at first that I would turn back, but I decided it wouldn't be fair to the boys. Soon after we arrived I started to sew."

Although they planned to be on the island for two years, they brought supplies for only six months because they expected to live primarily off the land.

They stayed at first in a tent, then built a snowhouse. In the spring of 1922, the men killed more than 30 seals and 10 polar bears as well as geese and ducks, according to Blackjack, so meat seemed to be plentiful. That summer Knight went off by himself to explore and swam across the Skeleton River. He was never well after the trip.

Throughout the summer, the group waited for a supply boat to arrive. But Stefansson's boat had been unable to reach the island because of ice. By late fall, conditions worsened for the group and there was little meat. On Jan. 8, Knight and Crawford took the dogs and left for Siberia to get help. But they returned within a couple of weeks because Knight was too sick and weak to travel.

On January 28, Crawford, Mauer and Galle left for Siberia.

"They promised that they would come back after they got to Nome, with a ship, and if they couldn't get there with a ship they would come over with a dog team next winter. They left with a team of five dogs and a big sled of supplies," Blackjack wrote.

That was the last she or anyone ever saw of the trio. And from that point on, Blackjack's life became a battle for survival. She did not know how to hunt and trap, but she learned quickly because Knight was too ill to be of any assistance.

By February, he had become bedridden. She kept a bag of warm sand at Knight's feet and sewed pillows of oatmeal sacks stuffed with cotton to ease his bedsores.

When he died later in the spring, she was completely alone and at the mercy of the many polar bears that frequented the island.

Once, when she was hunting seals, she barely escaped from a mother bear and her cub.

"Finally, I realized it was a polar bear and I was four hundred yards from my tent. I turned and ran just as hard as I could until I got to my tent. I was just about ready to faint when I got there, too," she said.

After a number of other close calls, Blackjack was finally rescued August 19, 1923, when the boat Donaldson arrived. Incredibly, Blackjack found her return to the more populated world to be nearly as harrowing as Wrangel Island. She was criticized by one of her rescuers for not finding a way to save Knight's life, although Knight's parents eventually vindicated her after meeting with her and issuing a statement that Blackjack had done everything possible to save their son's life.

Still, poverty dogged Blackjack for much of her life. She married and divorced a man named Johnson and had another son, Billy, who eventually became a leader in the Thirteenth Regional Corp. Because she had little money and was not well, Billy and Bennett were put in the Jessie Lee Home in Seward for nine years.

When she finally scraped together enough money, she took the two boys to Nome where she worked herding reindeer and fed the children by hunting and trapping. After Billy left home, his mother continued to care for Bennett. She died in Palmer May 29, 1983.

Johnson recalls his mother with love.

"I consider my mother Ada Blackjack to be one of the most loving mothers in this world and one of the greatest heroines in the history of Arctic exploration. She survived against all odds. It's a wonderful story that should not be lost of her self-discovery and cultural re-awakening. And it's a story of a mother fighting to survive to live so she could carry on with her son Bennett and help him fight the illness that was consuming him. She succeeded, and I was born later. Her story of survival in the Arctic will be a great chapter in the history of the Arctic and Alaska. Time is running out, and soon this chapter will fade away unless we care enough to make a record of it," he said.

When his mother died, Johnson had a plaque mounted on her grave stating simply: "The heroine of Wrangel Island."

Photo courtesy Billy Blackjack Johnson.