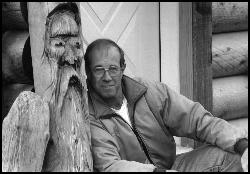 Author George Harbeson Jr.

I have always loved to read, and by extension, to write. Reading and books have been an integral part of the Harbeson family ancestral history for at least a century or more, and as a young boy in Wasilla, Alaska, in the mid-1950's, I became an avid patron of the Wasilla Public Library and took full advantage of its small, but diverse collection.

The first summer on our homestead we lived in a long-abandoned military squad tent we'd salvaged from the woods. Wrapped in a mummy bag on a top bunk bed, I spent hours reading in that tent, accompanied by the patter of raindrops on the canvas a foot above my head. I checked out six to eight books every week from the library, books such as the Hardy Boys and Nancy Drew and Tom Swift and Kjelgaard's Big Red series, volumes about the American Presidents and other historical figures, books on adventure, exploration, history, science, nature -- and all of the science fiction the library had to offer.

Writing is a means of expressing and sharing human experience, and my first fumbling attempts at writing took place in my father's high school English classes. Heroic deeds seemed to be desirable subjects, but alas, I had none to draw from; I hadn't driven a D-8 Cat to the top of Mt. McKinley, nor gone hand-to-hand with a grizzly. "Write about what you know," Papa instructed, so I settled for something occupying much of my thoughts at the time-basketball. The result was meager, but a seed had been planted.

Over time, perhaps due to my homesteading experiences, I came to see that the seemingly trivial events in my life could encompass deeper meanings and strike a common bond -- both humorous and poignant -- with other people. While teaching in rural Alaska I began writing short stories about homesteading, and fiction about life as I saw it in Iñupiaq and Yup'ik villages -- each an aspect of a disappearing era in Alaska history.

Upon my retirement, those efforts and an interest in small details led me to write a non-fiction book, Homesteaders in the Headlights. It is my way to re-live and share my family's history -- and a means to offer a perspective of Wasilla and Alaska then, which may serve as a contrast to what they are today.

Read an excerpt from Homesteaders in the Headlights.

Read former State Representative Katie Hurley's introduction to Homesteaders in the Headlights.