Alaska Native and Native American youth have the highest dropout rate among all ethnic groups in the Anchorage School District, according to Edna Lamebull, Supervisor of the Indian Education Program. Additionally, Lamebull believes a common problem among Alaska Native and Native American youth is a lack of identity and pride in Native culture and traditions. CIRI's community relations plan desires to build awareness of the vital role that Alaska Native and Native American people play in the economic, social and cultural development of Alaska and the nation. Placing a high priority on supporting youth and education, CIRI is committed to helping youth develop leadership skills and lifelong learning habits.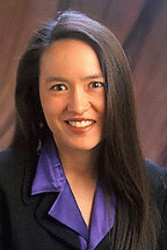 Dawn Dinwoodie

In partnership with the Anchorage School District Indian Education Program, CIRI is currently developing a Native Pride program designed to increase identity and pride among Alaska Native and Native American students. Other partners in the project include the Alaska Native Professional Association and Big Brothers Big Sisters of Anchorage. The Native Pride program supports youth by providing positive Alaska Native or Native American role models to either mentor students individually or to provide presentations to all participants. The mentoring component is a long-term commitment and the one-time presentations or discussions are focused on careers, youth issues, cultural topics, and so on. In April, Ramy Brooks, the 1999 Yukon Quest Champion, toured three Anchorage middle schools to share information about his career as an Iditarod musher. He provided an educational slideshow on the business of dog mushing from caring and training the dogs to weather and snow conditions. Last year, actor Irene Bedard, a CIRI shareholder of Inupiat heritage and a Dimond High School graduate, volunteered her time while visiting Anchorage to provide a powerful personal story of growing up in Anchorage and how she became a successful actor.

These presentations often have an educational component, as in the case of renowned Native American author Sherman Alexie's recent visit with Anchorage students. West High School teacher Debi Bye met with participating students before their gathering with Sherman Alexie. Bye led the students in a discussion about Native American authors and the mainstream stereotypes and misperceptions they often run into when writing stories about their lives. Bye also gave the students background information on Sherman Alexie, and led them through a series of his short stories and poems, in order to prepare them for a meaningful discussion with Alexie and to increase their knowledge about Native American authors.