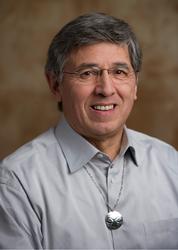 Byron Mallott

Byron Mallott
Books of the Year Keynote Lecture
University of Alaska Anchorage
February 23, 2009

UAA Chancellor Fran Ulmer:
Well, good evening and welcome, everyone. My name is Fran Ulmer, and I'm the chancellor at UAA. It's my pleasure to introduce to you this evening Byron Mallott, who will be our keynote speaker. But before I tell you a little bit about Byron, I would like to begin this evening by telling you just a little bit about the UAA/APU Books of the Year program. It's something that we're very, very proud of.
For the last three years, APU and UAA have worked together on something called Difficult Dialogues. It is a program that was actually funded by the Ford Foundation to promote civil discourse, to encourage faculty, staff, and students to have conversations about interesting, challenging, and relevant topics of importance to our society. The Ford Foundation was so impressed by the way in which APU and UAA conducted the Difficult Dialogues program here in Alaska that they, this past year, funded us for another two years. As a matter of fact, we're one of only 13 programs in the entire United States that were fortunate enough to continue this funding. The point really is to get people to think about and talk about things that are really important in their community, in their state, and in their nation and do it in a way that allows different opinions to be expressed and to help people understand other people's perspectives.
In this particular Difficult Dialogues program at UAA and APU, we select Books of the Year that provide the focus of the conversation. The Books of the Year that were selected this year for that focused discussion were three books: Growing Up Native in Alaska by A.J. McClanahan, Yuuyaraq: The Way of Being Human by Harold Napoleon, and a book titled Do Alaska Native People Get Free Medical Care?, which was a brief introduction to frequently asked questions and was actually written by APU and UAA faculty and members of the Anchorage community. These three books we have encouraged our students, staff, faculty, and members of the community to read and to discuss.
I want to publicly thank some of the people who have been actively involved in this program over the last year or two and particularly that helped in the selection of these books, and in the development of the third book that I mentioned, that deal with local issues. They are Libby Roderick, Roseanne Pagano, Tim Rawson, Beth Sullivan, Jeane Breinig, Phyllis Fast, Paul Ongtooguk, Joanne Durcharme, A.J. McClanahan, and Lauren Bruce. To all of you, I want to say thank you so much for the way in which you have helped promote the Difficult Dialogues program at APU and at UAA.
So, this evening, our keynote speaker is Byron Mallott. And he is uniquely qualified to speak to the topic. The topic is Alaska and Alaska Natives: the next 50 years. I've known Byron Mallott since I first moved to Juneau, Alaska, in 1973. I consider him a friend and I have always been inspired by watching Byron Mallott, not only contribute to his community and to the state, but the way in which he challenges people to think beyond what they see today and to think about what might be in the future.
Byron Mallott was born and raised in Yakutat, the ancestral home of his mother's Tlingit clan. He is the clan leader of the Kwaashk'i Kwáan of the Raven people in Yakutat. Byron has been involved with the Sealaska Corporation in many different capacities: as a director, a board member, CEO, president. He has been on countless boards and commissions. He currently serves on the board of directors for Alaska Airlines. He has been the director of the Alaska Public Radio Network, president of the Alaska Federation of Natives, executive in residence at the School of Business and Public Administration at the University of Alaska Southeast, and executive director of the Alaska Permanent Fund Corporation. Byron is a husband, father, grandfather, fisherman, and an extraordinary speaker. We're very lucky to have with us this evening Byron Mallott. Please help me welcome him.
Byron Mallott:
Thank you, Fran, very much, and thank you all for coming out on a Monday evening. You know, the idea of difficult dialogues tends often to be the kind of discussion that you hear on NPR at three o'clock of a morning when you can't sleep or it's a Saturday afternoon when some space is being filled. The difficult dialogue, if it is such, about Alaska's future, looking at the next 50 years, can't be that kind of dialogue. It has to be one that is timely. It has to be one that is relevant to each of our lives. It is one that has to include us. Anniversaries are good times in anyone's life to reminisce, to take stock. And certainly, Alaska celebrating, in 2009, 50 years of statehood must be one of those times, because we have much unfinished business.
We have to, I believe, as we look to the next 50 years, create a new language about the future of Alaska. It must be both a societal language, and it must be a public policy language. It must be a language that we become comfortable with and use to both understand and guide one another. It needs to include words like "Alaska Native" - with a capital "n". It needs to include words like "tribe". It needs to include words in a public policy context of treating those of us who are different and choose to be different differently and to do that with respect and understanding and comprehension and not to exclude but to include.
I would submit to you that at least several of those words that I just put out there, in the last 50 years, in our public policy dialogue, have been words that we've used only tentatively. We've used words like "tribal" in a very narrow context that's relevant to our own personal or group understanding of what that word means. When we talk about Alaska Natives, oftentimes we recoil from discussing it too deeply or too often. It's a phrase that tends to make us uncomfortable.
And in the context of 50 years of statehood built around and from a constitution that enshrines the notion of individual rights, of individual responsibility, in a constitution that says very clearly that all of us are created equal and must be treated equally, that there is not any segment of our population that should be treated any differently than any other, that there must be, in public policy and in the way we treat with one another and society, a profound value of equality, a profound sense that for any individual to somehow be treated differently, particularly when a discussion of that difference involves Native peoples and begins to sometimes slip to the edge of not different but separate, we begin to cringe. We begin to fall back on patterns of behavior and sense of societal norms that suggest we don't go there, that it is, in fact, unconstitutional.
How then can we look to the next 50 years in a place -- Alaska -- that is larger than most nations, that is really not a state, it's another country, a place where thousands of miles can separate a range of communities, one from the other, where peoples of every ethnicity live side by side, yet every day often far separated? How can a place -- and I just saw this the other day. Some of you may have seen it -- some factoid about Alaska at 50 years: that if Manhattan Island -- math is not my strong point -- that if Manhattan Island had the population density of Alaska, there would be 20 people living on the entire island.
We are an incredibly huge place with a very small population, yet we pride ourselves, after 50 years of statehood, of being together. If you ask Alaskans to use just a few words to characterize what makes this place, once you get beyond the majesty, the beauty, the kind of description that I've just used about the size, we talk often in terms about how we really are one and how, while we live in incredibly different places, geographically and yes, even in our states of mind, that somehow we're able to come together as Alaskans when that is required or important. And like most generalizations that we subscribe to, there's significant truth. And like most generalizations, there is also a lot of space in which we know truth doesn't fall.
One of the things that I've found in 50 -- well, 50 years -- I've really been involved about 40 -- in Alaska is that, say it as often as we might, we really are not much unlike any other place in the United States in terms of the things that drive us economically, socially, politically. And I remember a time, for example, when the word "compromise" was a good public policy word, when the idea of being pragmatic, of looking at issues and dealing with them based upon some kind of Alaskan context, as opposed to something else. And I think that there wouldn't be a lot of disagreement in this hall or elsewhere in Alaska that we live in a different place today: a place in Alaska, politically, that is hard-edged, where ideology drives decision-making, where the sense of the measure of a person is how strongly you stick to your guns or how profoundly you profess your beliefs. And typically, what that requires, if you're passionate, is to impress those and to force those on someone else.
Now, in Alaska, we still have the ability, because for all the descriptors that I've just used and we ourselves use often about Alaska, we're still a small town. Our population makes it such -- our ability to communicate, our ability to move around this place. So, there's something of a leavening. There's something of a personal ability to reach out and to feel and to touch and to communicate in ways that softens that hard edge to some degree. But I'll submit to you that as I think about the next 50 years, that is still not much of a place to begin a discussion about especially the place of Alaska's Native peoples in this next half century.
We could do as we have for a good portion of the last 50 years and talk about Native peoples in the framework of the Alaska Native Claims Settlement Act, where we're comfortable because that is something that happened. It is public policy; it is now an economic reality in our state. And we're, to some degree, comfortable about talking of Alaska's Native peoples as shareholders in corporations. But when we move beyond, we're comfortable in talking about Native presence in municipalities or even in the Alaska legislature as citizens, which is right and proper.
But much of our discussion about Alaska Native peoples in other areas of our relationship to and among Alaskans is done using code words, isn't it? We use "rural" a lot. Rural has become a word that cements over and covers up, in some powerful ways, a dialogue and a discussion and a reality that needs to be addressed. We have to move beyond it in the next 50 years in order to get to a place that I will describe shortly.
I grew up in a village, went to high school in a boarding school where all of my peers, all of those that I associated with, were Alaska Native, where everything in our lives was defined by the rhythms of being Alaska Native, and where even a discussion of statehood -- in 1959, as a young boy -- was couched, not in terms of a visionary future or a model constitution or the development of an economic base for a fledgling place, but it was about those things that for generations, even millennia, had guided and formed the rhythm of life in so many places in Alaska. And so recently, when I had the opportunity to travel to several places in Alaska and talk about 50 years of statehood from a Native perspective, I truly had to think about it. I had to think about: what did statehood mean to me?
And in some ways, it was hard coming. It was like I was talking about a place that, in some powerful ways, wasn't relevant to much of what was important to me, because, for example, in the year 2009, if you think about how we measure public policy goals -- typically in an appropriations process, typically on the kinds of programs and the kinds of public policies that result in actions that affect people, either to protect them, to provide services for, to maintain order on behalf of -- the State of Alaska's presence in much of the geography of Alaska is relatively modest, compared to that of the federal government.
And so, when you think about 50 years of statehood from a Native perspective and you look at big issues that affect people from the Native perspective, you look at something like subsistence -- the idea that Alaskans that lived, again, for generations and even millennia on the bounty of the land and from the land and still do and have done today -- we can see that the State of Alaska is at a place that Alaska Native people are not comfortable with. A public policy that says the only way we can treat with the issue of subsistence in Alaska is if all citizens are treated exactly the same, and we can't use the word "Native" in dealing with an issue that otherwise in Alaska would not even be an issue, except for them. Except for them. Subsistence for Alaskans can be dealt with in personal use and in a myriad of ways that are entirely possible and have been available in the public policy toolkit at least since statehood.
When you look at the word "tribe" in Alaska, you wonder -- most of us who are non-Native wonder what that means. What does it portend? What kind of a thing is it? We've not had that dialogue. We've not had, in any meaningful way, a sustained and meaningful and respectful discussion in public policy about tribes in Alaska. It's a subject to some degree like subsistence, where everybody goes to their corners and stays there. One governor can write an executive order that says, for judicial purposes having to do with ICWA, the Indian Child Welfare Act, the State will accept as writ the decrees of a tribal court. Another governor will have among the first acts on the first day in office a complete rescission of that executive order.
We also have, in rural Alaska, communities that are, in the main, still Native in every way that one can describe those places. We have many other communities in rural Alaska that are comprised of Native and non-Native neighbors living side by side and prospering and failing together -- neighbors and even family members. We have, in rural Alaska, a number of places that are almost exclusively non-Native that it has been -- how do I say this? -- from which some of the most vile anti-Native rhetoric and attacks have come -- from rural Alaska over the years, because of a hard contact in which there were no relationships at all developed. We have some Native communities that feel passionately about remaining Native and to some degree exhibit some of the same characteristics, but on the other side.
This is all suggestive of a need to deal with this circumstance in Alaska, because as we celebrate 50 years of statehood, as we look at all of those things that we have accomplished as Alaskans, there is this crust, there is this unfinished business, there is this kind of festering sore that somehow needs to be suppurated and dealt with. It isn't particularly the fault or even the responsibility of elected officials, for example, to figure out how to deal with this. Elected officials represent us, and if we're uncertain and if we aren't talking, if we aren't having dialogue, if we aren't communicating, if we aren't reaching out, we can't expect them to deal with issues that we oftentimes put in their laps and desire them to deal with.
Having said all of that, I'm also very much an optimist, and I have this sense of -- and I will continue to call it "rural Alaska," but it must have a different definition. It must be rural Alaska, the definition of which includes essentially three understandings. One is that there is a Native place in rural Alaska -- a real Native place with Native people living on their lands, being passionate about that ownership, finding it important to their very being in order to have a relationship with such places, and communities where all is predominantly Native. There are still those places. The second definition of rural would be those smaller communities in which Natives and non-Natives live side by side and even are family members and certainly are neighbors and deal with and struggle and work together every day in common purpose, but in which, in some powerful ways, they are still separate.
If you're a Native mayor, for example, of a Native village, when you go to Juneau or Anchorage, you go into the Native community, except for those required contacts with institutional and public policy and other leadership that are required of his or her office. When a non-Native mayor or councilmember from even a village as I've describe or a community as I've described that is rich in the cultural diversity of these places, the non-Native mayor will still go, in Anchorage or in other places, to the non-Native community. And if he or she has a council member who is one or the other, with him or her, when their business is done, they go to different places.
Now, there's nothing wrong with that. It is part of what makes Alaska the kind of place it is. Those contacts, those relationships strengthen bonds of every kind. It is human nature, of course. But for too long it has been a way of life that has stifled dialogue and communication and understanding and the ability to deal with big, tough issues, because everybody stays in their own places.
But again, having said all of that and having said that I am an optimist, I know we can all do better. I've been around long enough, dealt with, made enough friends, acquaintances, worked with enough people to just also passionately believe that the kind of Alaska that I can envision is shared by a significant majority of Alaskans: a place in which urban Alaska continues to be as vibrant and thriving and as prosperous and as economically and socially diverse as it is today.
But unlike the last 50 years, a place in which rural and, yes, Native Alaska rises to shape the second half of Alaska's destiny. A place in which it is recognized, not just as an accident of history, but as something to celebrate and to live and to maintain and to support. And that is the fact that Alaska's Native people are among the very last of aboriginal people on the North American continent to still live and be connected powerfully, in value-laden ways that they understand but even they have a difficult time articulating to others. A place in which the wave of conquest broke and didn't quite reach that shore.
But also, a place in which there have been, over the years, established incredible, rich, varied, unique relationships among Native and non-Native peoples that make even rural places of mixed generations incredibly unique and beautiful. Places in which even today you can only get there by airplane or boat or communicate broadly with neighbors only in the same way: by boat and airplane. Places in which in 2009, were there to be an examination by, say, the appropriate agency of the United Nations, Alaska would, in some significant ways, have to hang its head in shame because of the conditions and the circumstances.
But of course, Alaskans would not. Alaskans would hold up their heads and be proud. Some would be proud as a way of denial. Some would be proud at having hung on to something that was incredibly important and valuable that is not measured in the ways that things are measured today. But more than anything else, what that examination should show and where we find ourselves today in Alaska, in public policy, and in the kind of society we are developing, is that this is a place with tremendous opportunity to continue to build a place that is unique in all the world. A place in which, in the next 50 years, we continue to build a strong and vibrant and beautiful urban Alaska.
But a 50-year period in which we also put into, yes, our vocabulary, our words, our vision, our passion for the Alaska of 2059, a rural Alaska that parallels the success and the beauty and the workings of urban Alaska. A rural Alaska in which to be a Native is to be healthy, to be a Native is to be respected, to be a Native, yes, is even to be celebrated, because of the richness and the web of diversity that it helps to create for this unique place in all the world, again, as I said, with peoples who have been here for millennia and whose lifestyles and folkways and whose values and even whose religions, or at least spirituality, and whose expression in art and dance and music are celebrated in ways that their children know all respect and revere.
Children know, don't they? Children know. Children know if their parents are respected. Children know if their parents are accepted. Children know if their parents are proud. Children know if their parents have the ability to live and make a life for them that is the kind of life that they can see in their parents' eyes. But far too often in Alaska, eyes that grow dim and grow desperate and often grow hopeless and leave the child in the same circumstance.
We, in the next 50 years, can build a parallel Alaska to that of "urb-Alaska" in which the kinds of community requirements are met and fulfilled by way of governance that is accepted by and fully embraced by local inhabitants. When we have investments in rural Alaska that are viewed as exactly that, as opposed to what is and has been a view that those aren't investments at all, but sunk costs. When we as Alaskans can say, we will not be comfortable, we will not accept this place until and unless, in addition to places like Anchorage and Fairbanks and Juneau and Kenai -- those urban places of which citizens are justifiably and rightfully proud and look upon their lives there as value-laden and rich and rewarding -- that we can say, in the next 50 years, we have come to a place where there is a bright, shining village on the hill.
A place in which Native and non-Native neighbors live side by side, where they have a sense of responsibility, one to the other, and a responsibility to one's self. A place in which differences are held up as strengths and not as arbiters of discord, where, yes, aboriginal peoples still live on the land and being able to say that and still have attachments to the land and being able to say that and feel that, in the household of every single Alaskan, as important to the success of this place is one of our public policy and societal measurements of our success. And where we can say, I am not dismayed or dismissive or even concerned that in both public policy and society we treat people differently, not as separate, but we treat them in ways that strengthen them and strengthen us as a consequence.
A place in which tribal governments are as much valued and as important as any other form of civil government in our state. A place in which, 50 years from now, public policy has allowed Native languages to be taught in schools at all levels. A place in which the very youngest are nurtured by an entire community that is dedicated to the proposition that our places will be healthy places, healthy in every respect: healthy physically, healthy psychically, healthy because who we are, no matter how different from any other, is respected and cherished. Respected because we know that our place, the State of Alaska, has become not an adversary of the federal government, but works arm in arm in order to build the kind of place that Alaskans have said so clearly is the kind of place we must have.
And finally, to be able to say, we want the rest of the world to look at us. We want you to come to our place. Give us your unvarnished opinion. Did we do good by our peoples? By our place? By the kinds of judgments we've made? By our ability to help you be better for our having built this place?
I'm an optimist, and I think about these things. And I think about my mother. And I constantly have this picture in my mind of my mother at our kitchen table with her Native lady friends dipping seagull eggs in seal oil and drinking tea and speaking Tlingit with us children running around their legs, begging for table scraps, and ourselves speaking Tlingit and the ladies laughing and bright-eyed. And then, seeing my mother at another time and in another place, getting ready to board a steamship passenger vessel to Juneau and seeing her cry and knowing that her crying had deeper dimensions than just her leaving my sisters and me for several weeks. Because that was the schedule in those days: when you left town, you were gone until the next steamship came through.
And she was going to a place, just one decade before statehood, where she knew that racial and other discrimination was still the descriptor of the life that she would find, of the place that she would find. And she would have to endure for two weeks in a place that was totally foreign, that was designed solely to strip her of who she was, of every sense of her self-esteem. And yes, my mother was an alcoholic as a consequence of this and other human-made policy that affected her life. And it wasn't until much later that I almost instinctively knew and realized that when she cried as she was boarding the steamship, she wasn't crying just for us, which she certainly was. She was crying for herself, because she knew what she was facing and would have to endure for those several weeks away from the place that defined her.
And that's what drives me. I never want another generation of Alaskans, after 2009, to have to endure that in any way, shape, or form. I never want another generation of Alaskans to have to live that in any way, shape, or form. That can be a defining understanding between the Alaska of the last 50 years and the Alaska of the next. Thank you very much.